Destination Wedding Photographer in Cancun Mexico!
It's 84 degrees with 71% humidity and a slight breeze at 10 miles per hour. A typical day in July you might say? No, actually this was the setting for a balmy December day as we stepped off the plane in Cancun, Mexico. This represented the beginning of our adventure covering Miguel and Lauren's fantastic destination wedding. This is the life of a destination wedding photographer.
A quick stop for a cool drink while our gear is loaded on the shuttle bus and just like that we're off. Roughly 40 minutes later we arrive at the resort. Secrets Capri Riviera Cancun is a lovely property located in the Playa del Carmen area of Quintana Roo. After getting our room settled, we begin to explore the grounds. What a fantastic setup! The entire lobby of the resort has a constant breeze blowing through the grand staircase located in the very middle of the building. A beautiful pond sits inside the hotel just under the stairs. But… this place is all about what's outside. So as we make our way around a pool that almost stretches the entire length of the property, we encounter our couple enjoying the sun with their family and friends. The party has already begun and the wedding is still a couple of days away. Herein lies one of the advantages of a destination wedding. It's like having a reception before the ceremony. Except everyone is in the water with an umbrella drink; relaxed and having a blast. Miguel and Lauren warmly welcome us into the festivities and we take a moment to catch up with them on some small details.
So…how did we get here?
We first met Lauren while working a styled shoot in a very high-end wedding venue in Atlanta called Ventanas. Sporting sweeping all glass views of the city, this location offers a helipad for the ultimate in wedding exits. Not to mention the best spot in the city to photograph bridal portraits with epic sunsets. It was impressive to see Lauren handle everything like a pro. It was an extremely hot summer afternoon in Atlanta that day and she was modeling a very delicate and expensive Zuhair Murad dress ($13,000) from Elite Pour La Vie. Despite the heat, the hectic pace of the schedule and having so many other folks pulling at her, she was always cool, calm and collected. In passing we heard her mention to someone that she was engaged. Of course a statement like that always makes a photographer's ears perk. However we sort of assumed she already had a photographer for her wedding by that time. So we proceeded to complete the shoot and a few days later we delivered all of the images. Several weeks passed and we jumped into our fall wedding schedule. The heaviest time of the year for us which included two weeks in Iceland shooting a couples session and a wedding. When we finally got back into town we received great feedback from Lauren of the photos from the Ventanas shoot. So at that moment we struck up the nerve to ask if she had secured a wedding photographer, thoroughly expecting to be turned down. To our surprise she had not settled on a photographer and was hoping that we were still available for her December destination wedding. Before we knew it we were booked with plane tickets to the Yucatan Peninsula. Funny how things come together.
So here we are, on the beach scouting the property for photo locations. While we were on the job, Lauren wanted to make sure we had a day to ourselves. This blessing gave us a little time to unwind from the non-stop wedding schedule we had completed through the fall. We even managed to get a spa day in prior to the wedding. By nightfall all of the guests had arrived on site and everyone was enjoying a breezy evening on the beach for the rehearsal dinner (after a downpour). A great time for us to meet and get to know everyone better.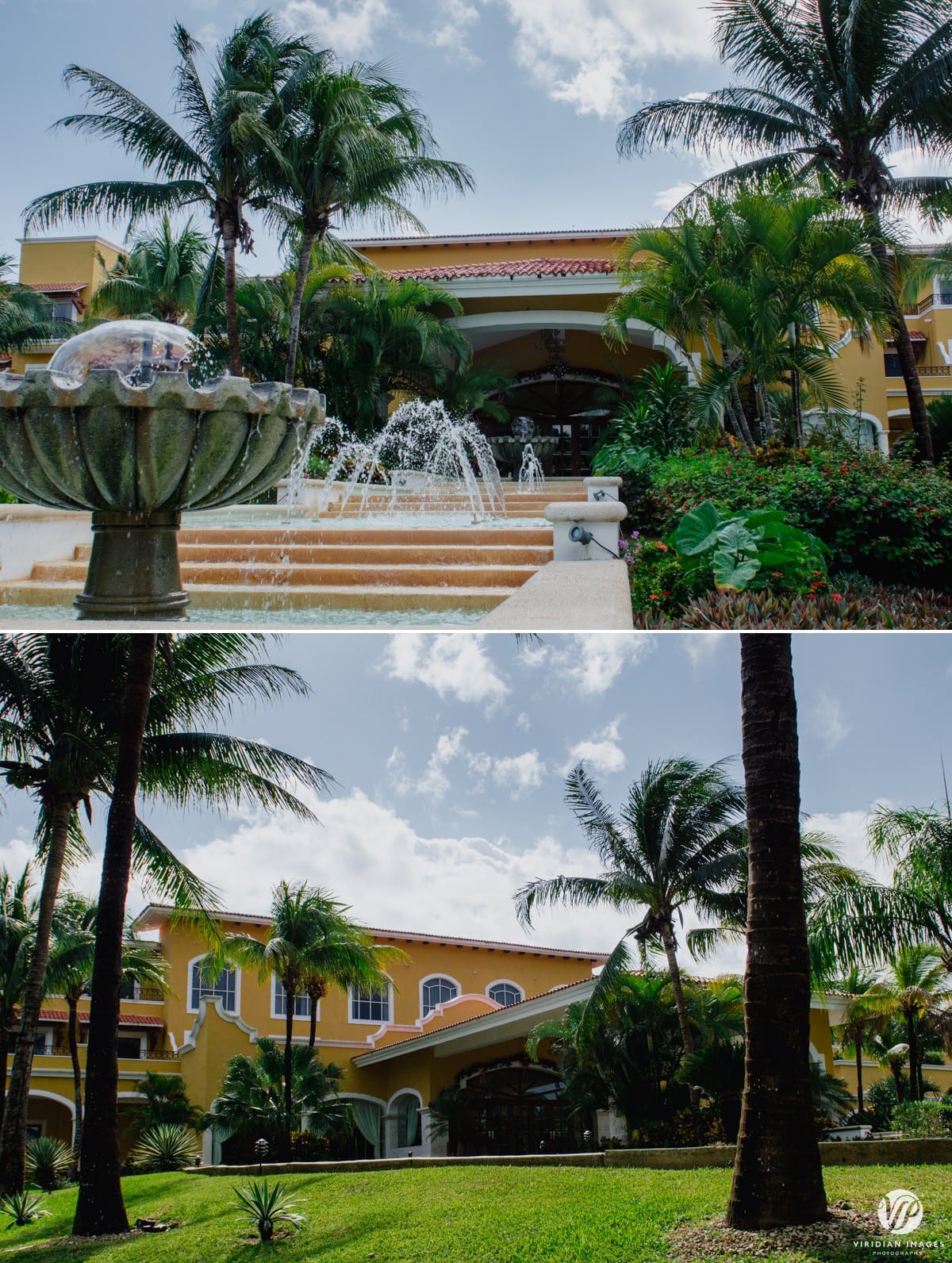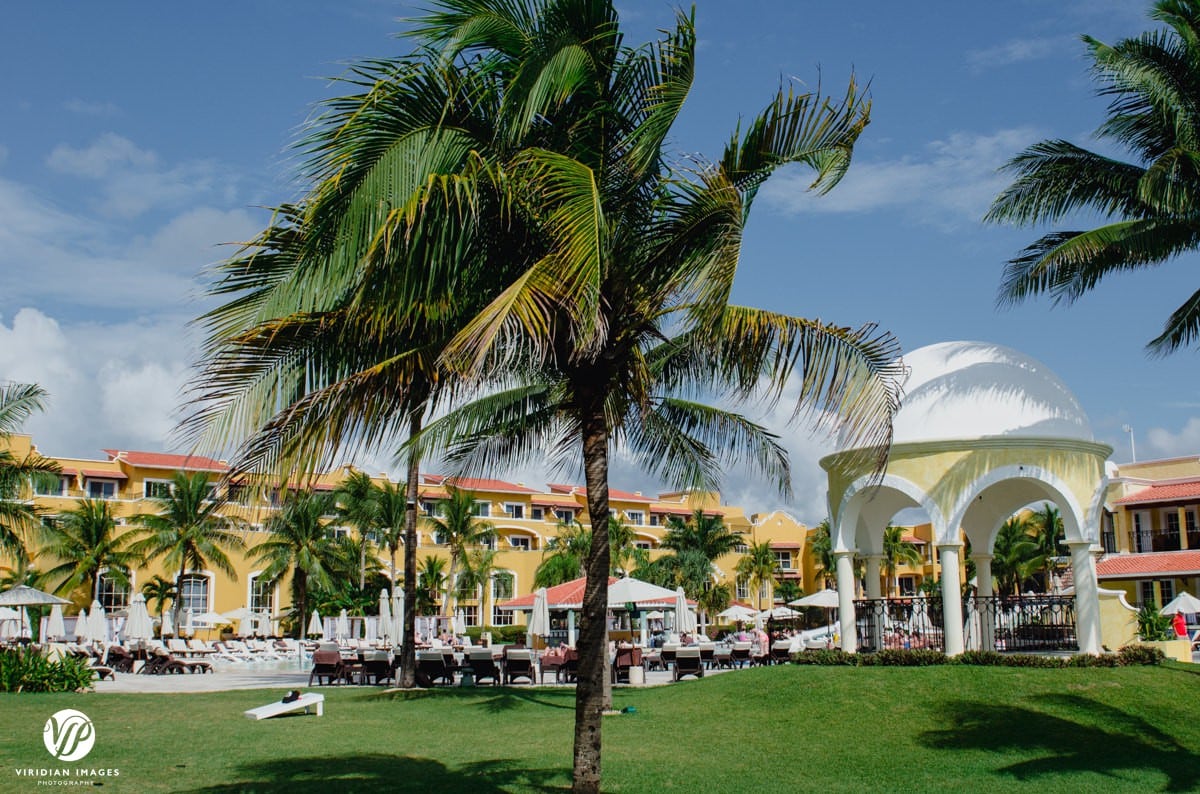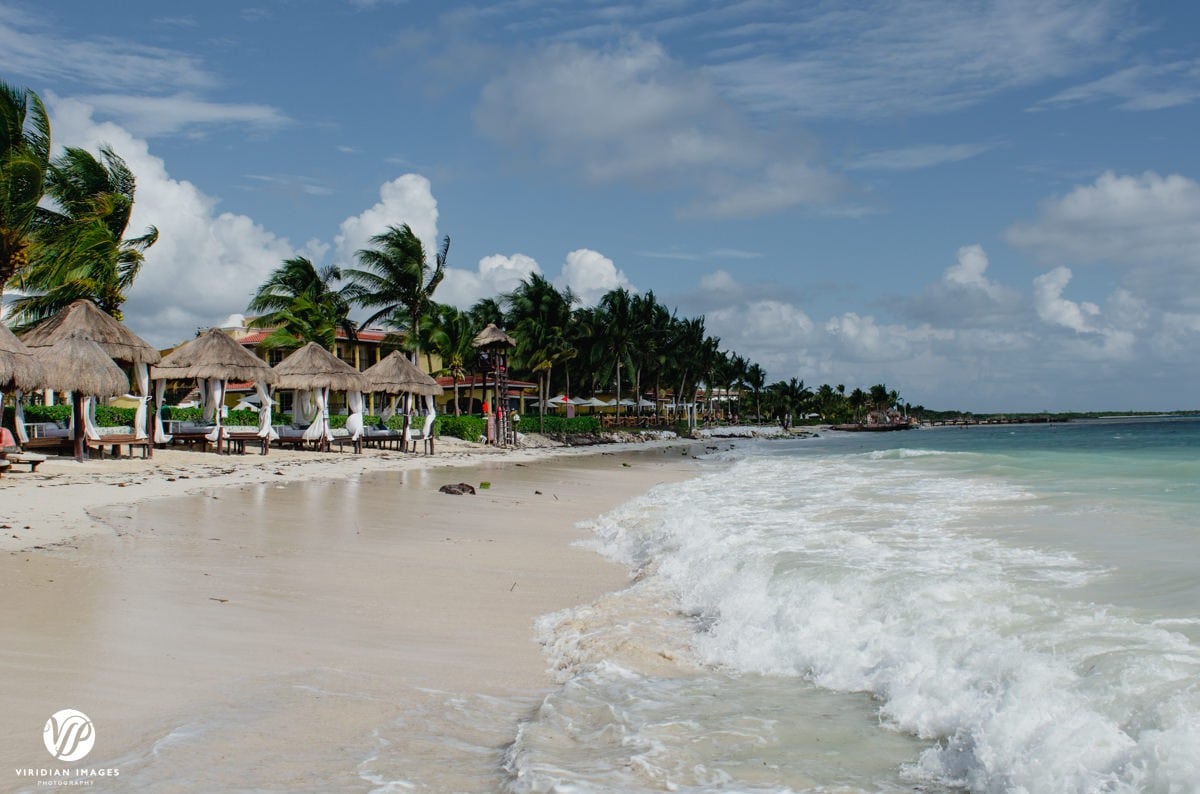 Wedding day is here
So Saturday morning arrives. It's wedding day! It's about 7AM and a family of White-nosed Coati greets us on our patio. In case you're wondering Coati's are Mexico's version of a raccoon. Just so much more exotic in appearance. Totally unafraid, they tap on our glass doors. They even swipe an apple from our hand. In the distance a huge iguana keeps a close watch on the scene. While all of this is great fun we've got a wedding to shoot. So we grab all our gear and head off to our individual assignments.
The getting ready portions were simple, relaxed and very straightforward. There was one challenge. The girls lost power to their suite for a significant amount of time. Nonetheless they kept moving forward with their activities. This gave me a chance to photograph the details for Lauren outside their suite. Check out Lauren's beautiful wedding gown by Martina Liana Bridal.
Let's meet our bride Lauren
One look at Lauren and it's easy to understand why she's a model. A stunningly beautiful woman with a personality to match. She's also an actress with commercial, film and television credits to her name. However, perhaps her proudest accomplishment would be teaming up with her sister and Matron of Honor Lena and creating their own line of high performing natural and organic cosmetics called Adeline Campbell.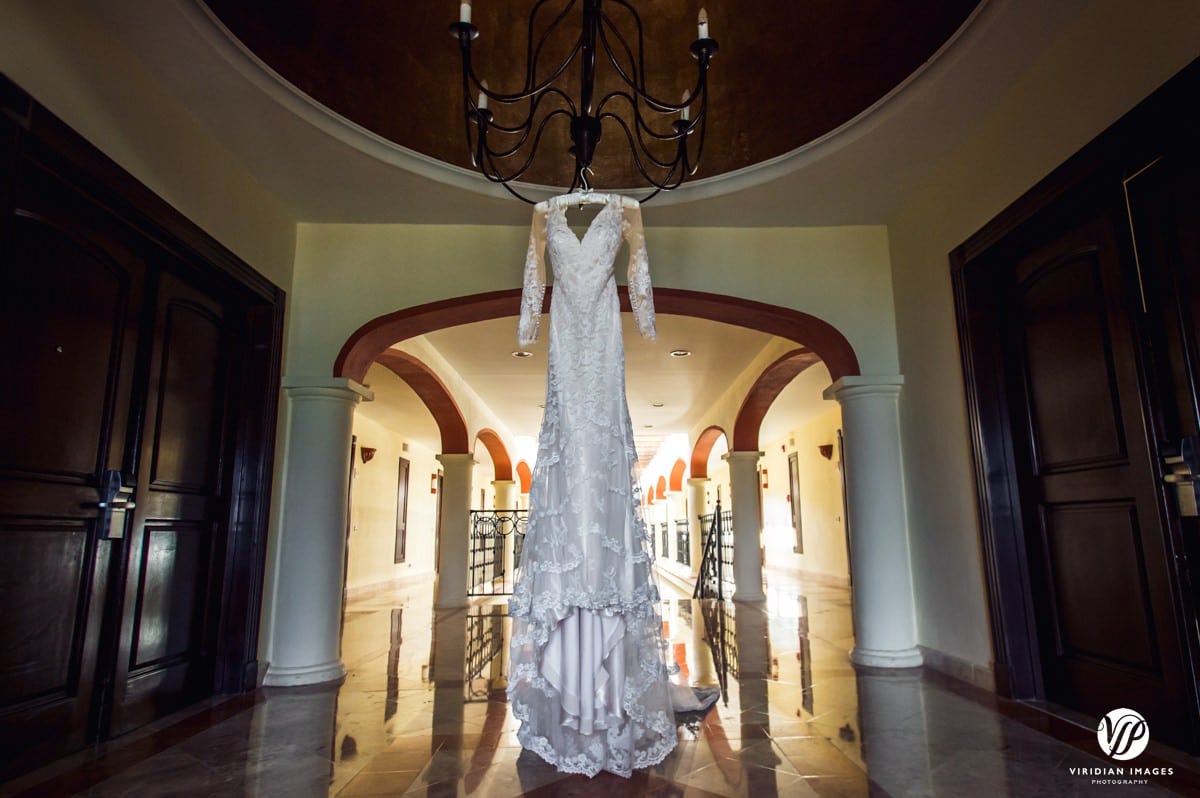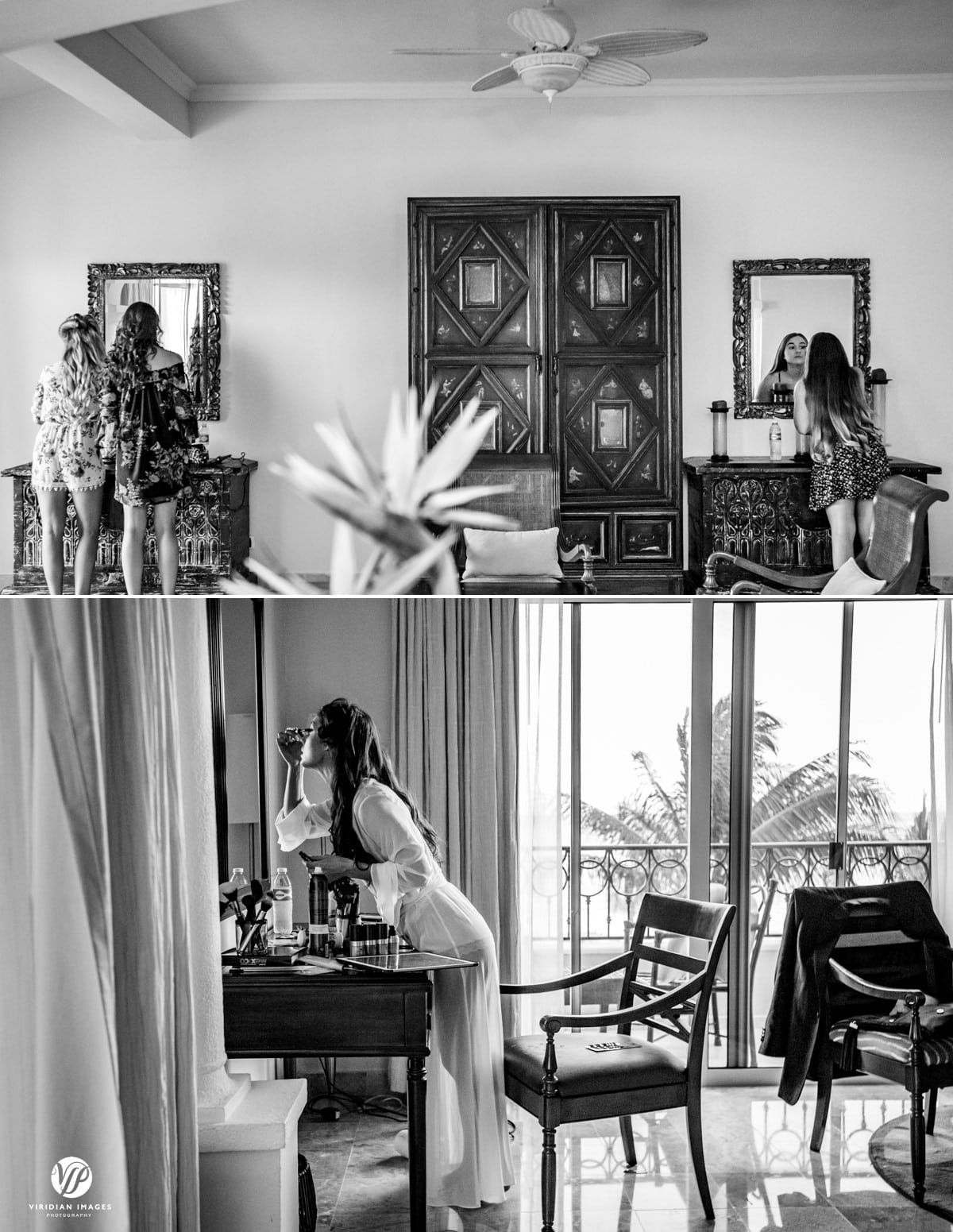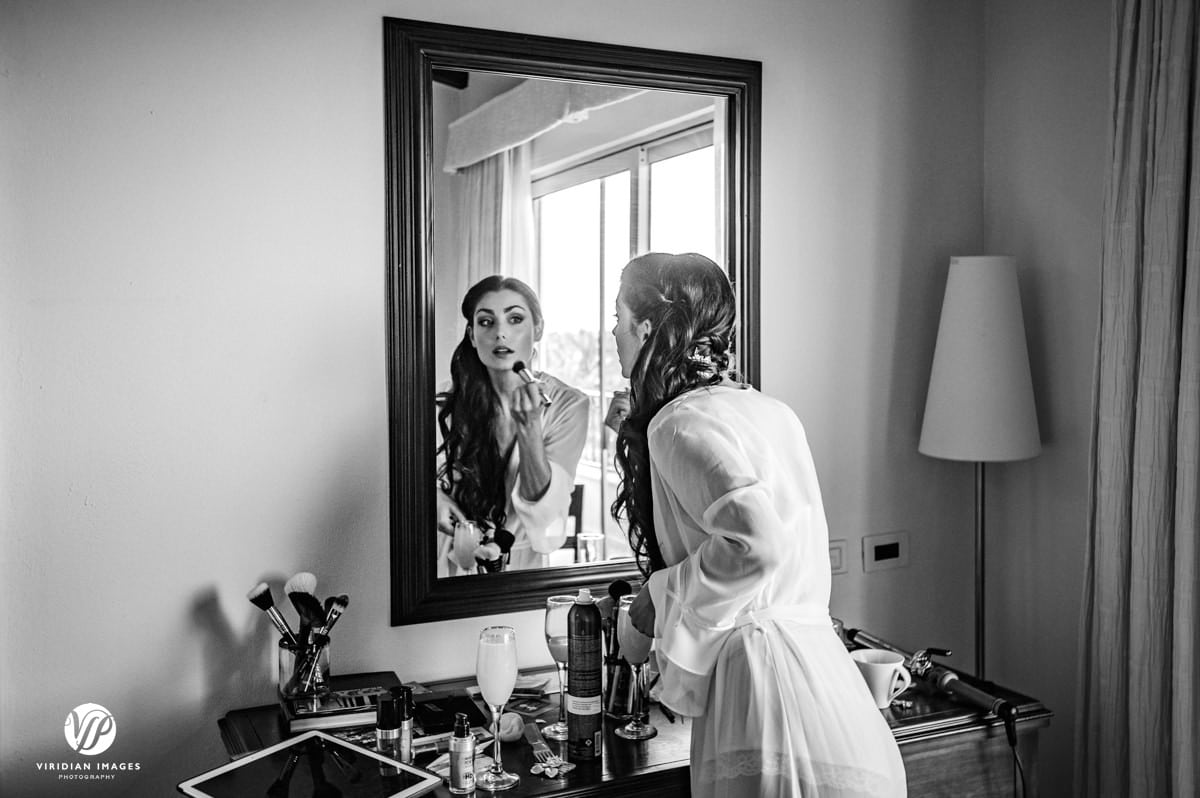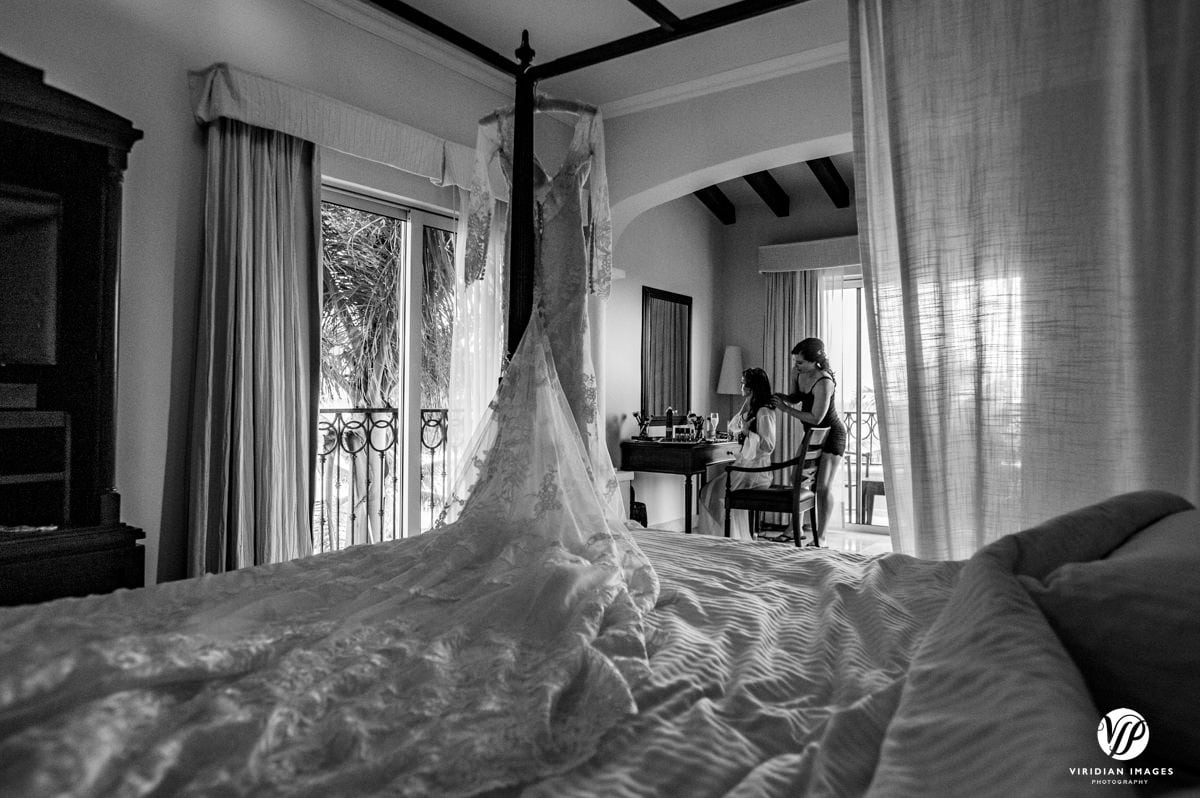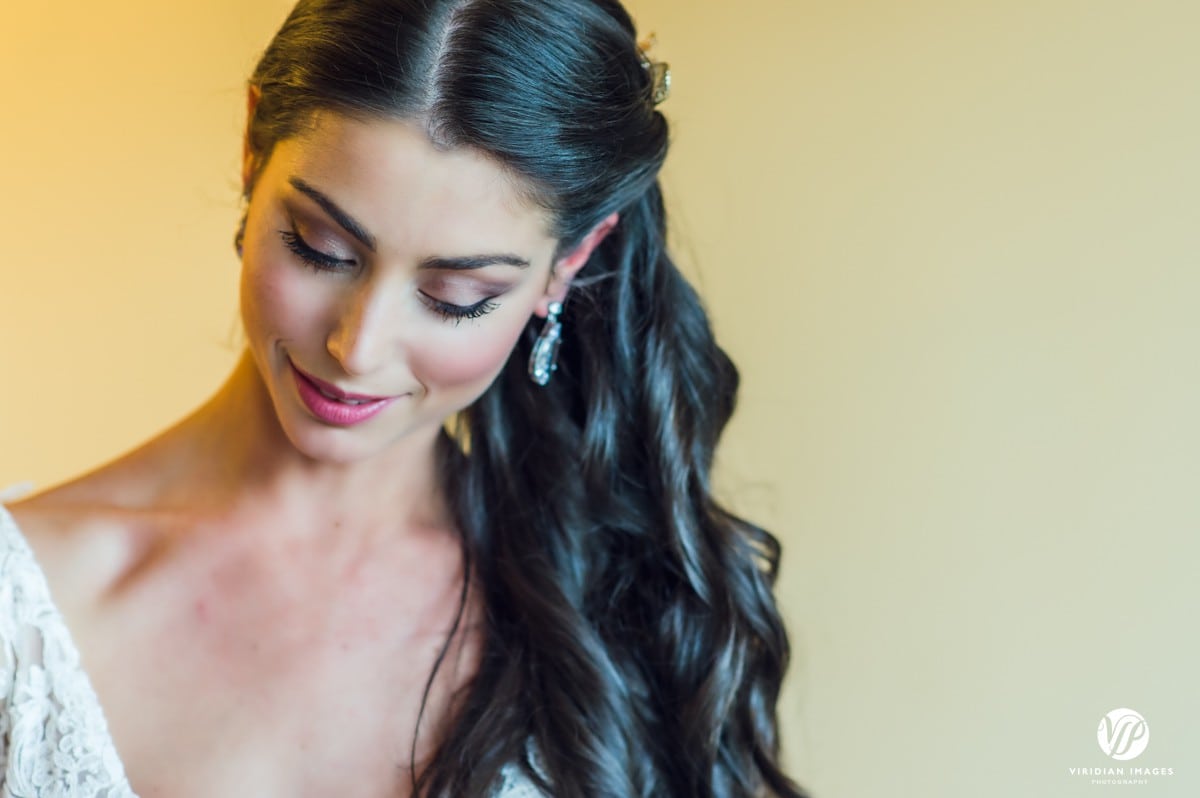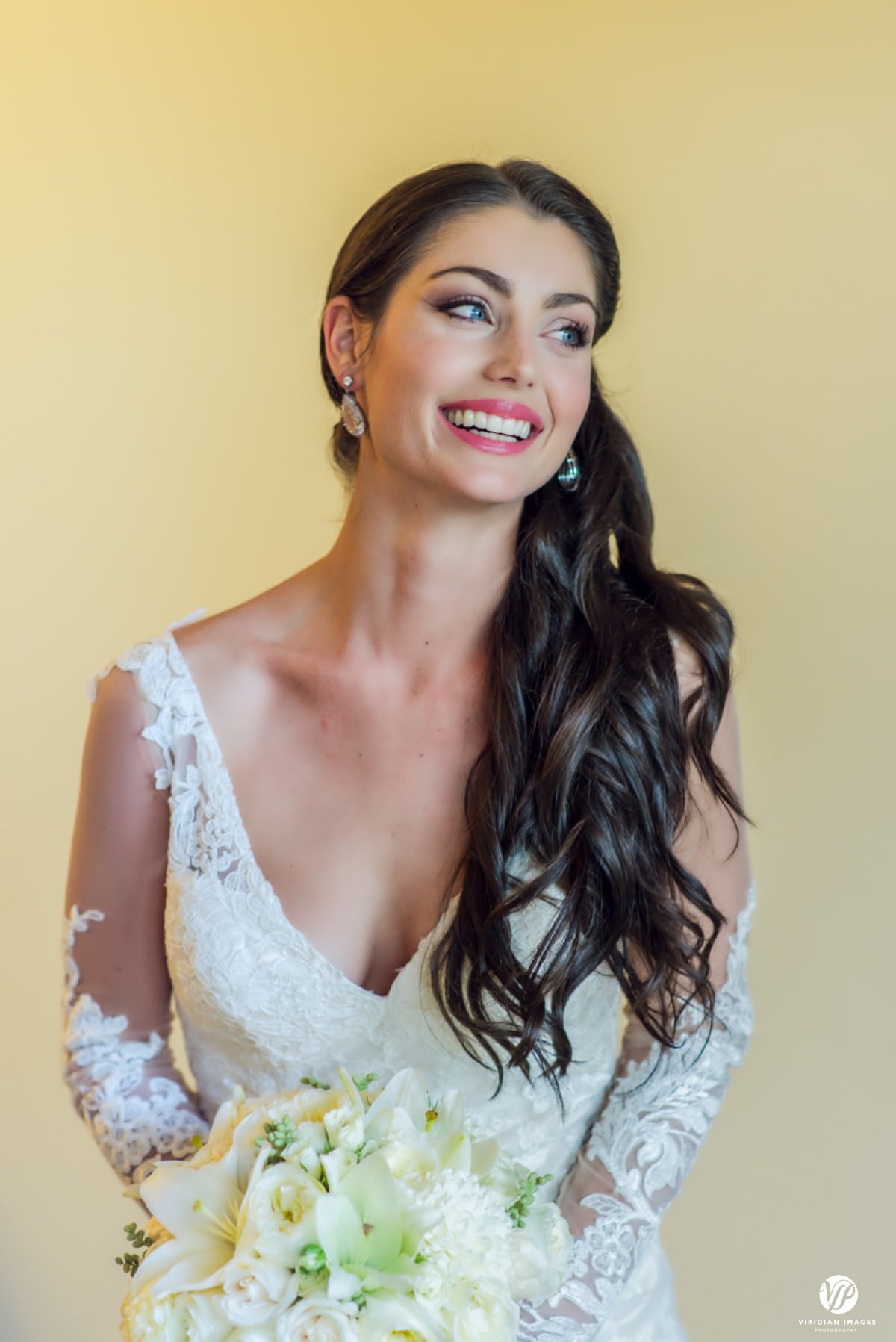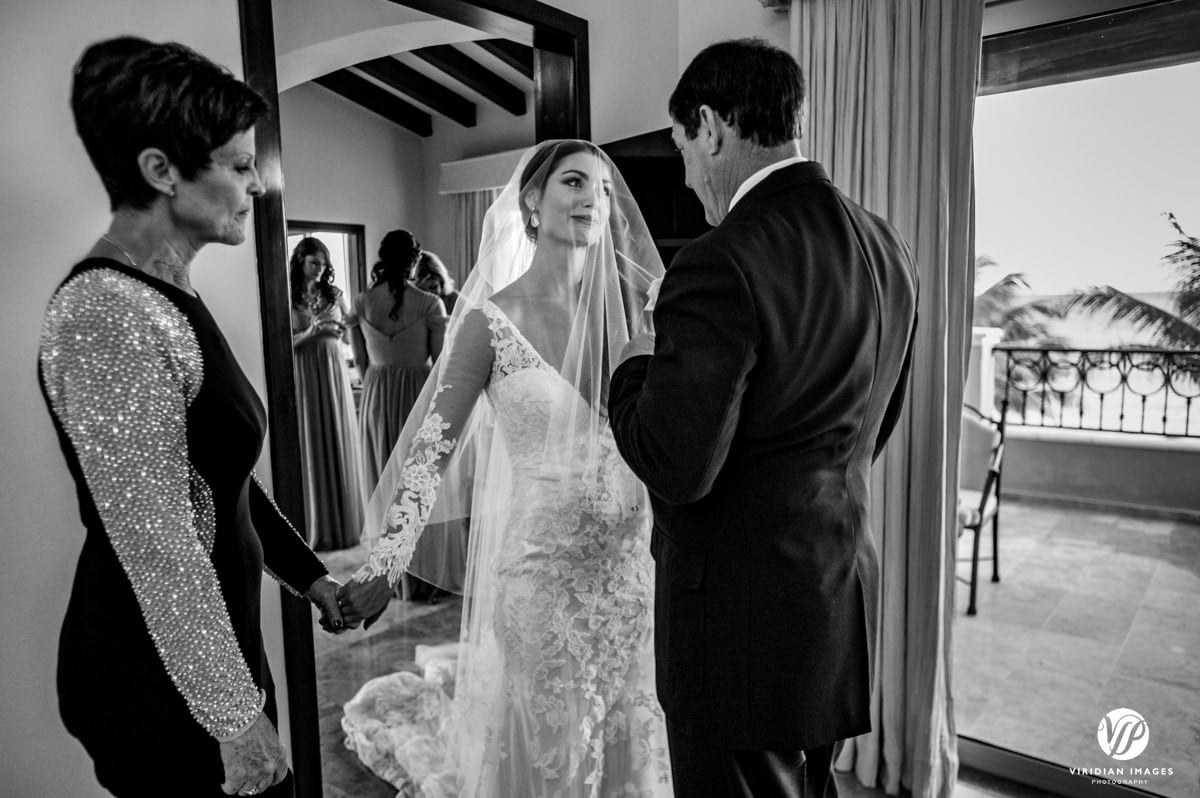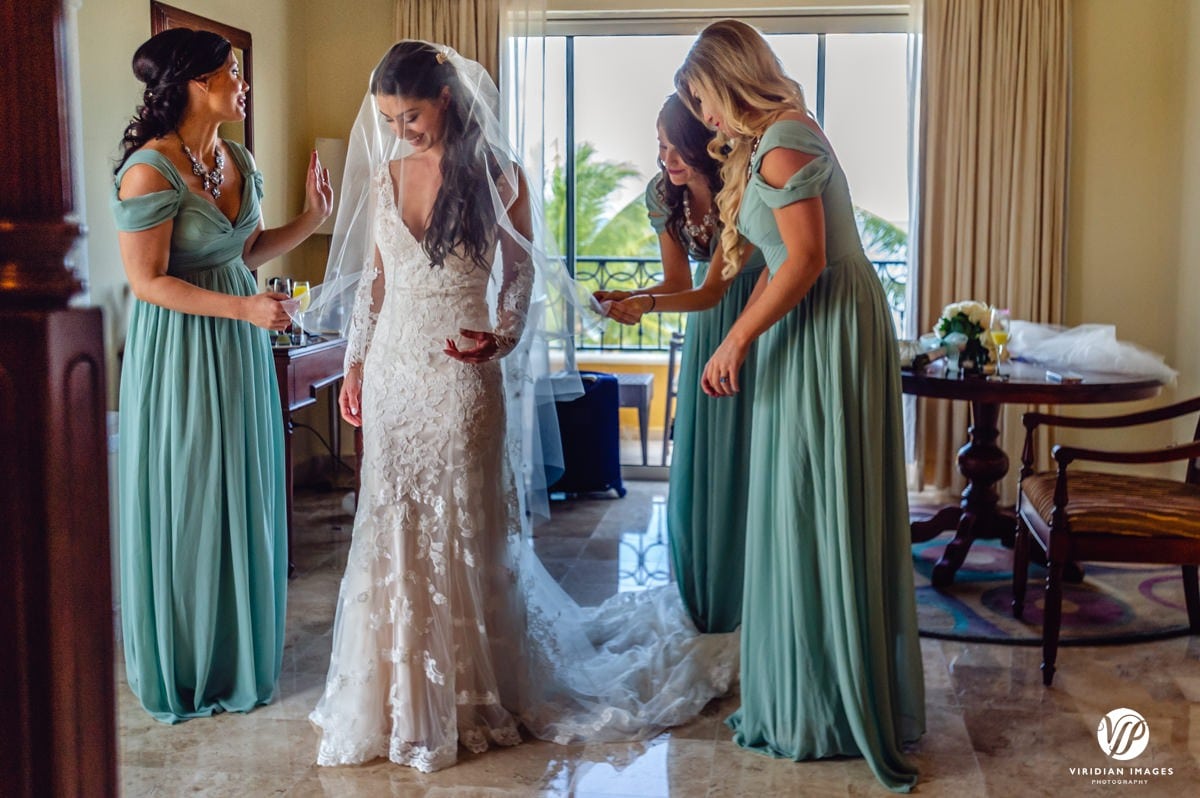 Let's meet the groom…Miguel
Miguel is a personal trainer and a program manager for one of the largest fitness companies in America. He lives and breaths exercise and graciously shares ideas and tips across various platforms for shaping a healthier lifestyle. (Check out his instagram feed for exceptional workout demos). His efforts have changed the lives of many people in Atlanta.
So Miguel and his groomsmen had it a little easier. They had full power and as is the case with most guys, they were dressed so quickly they had time to hang out and have a chess match.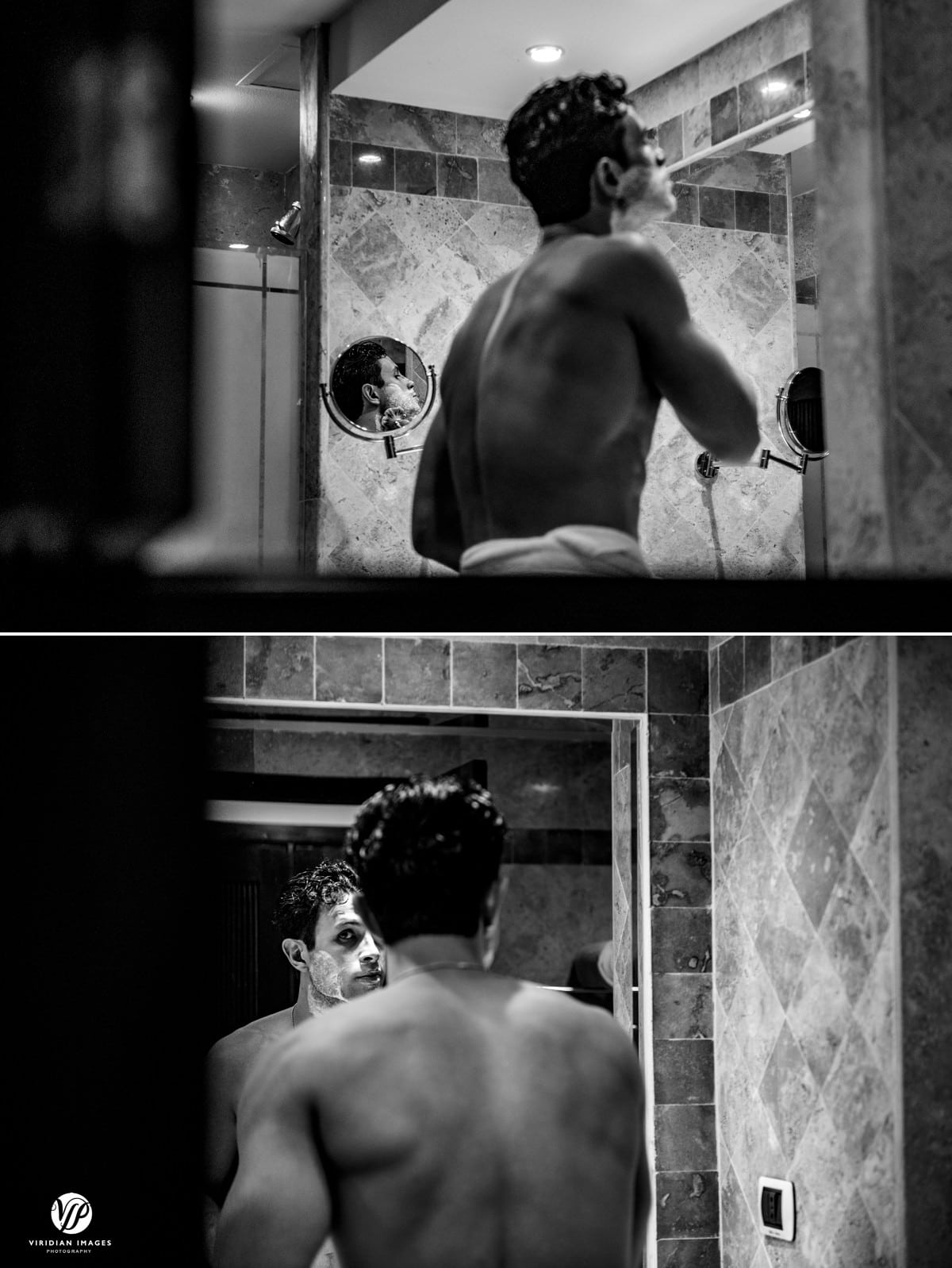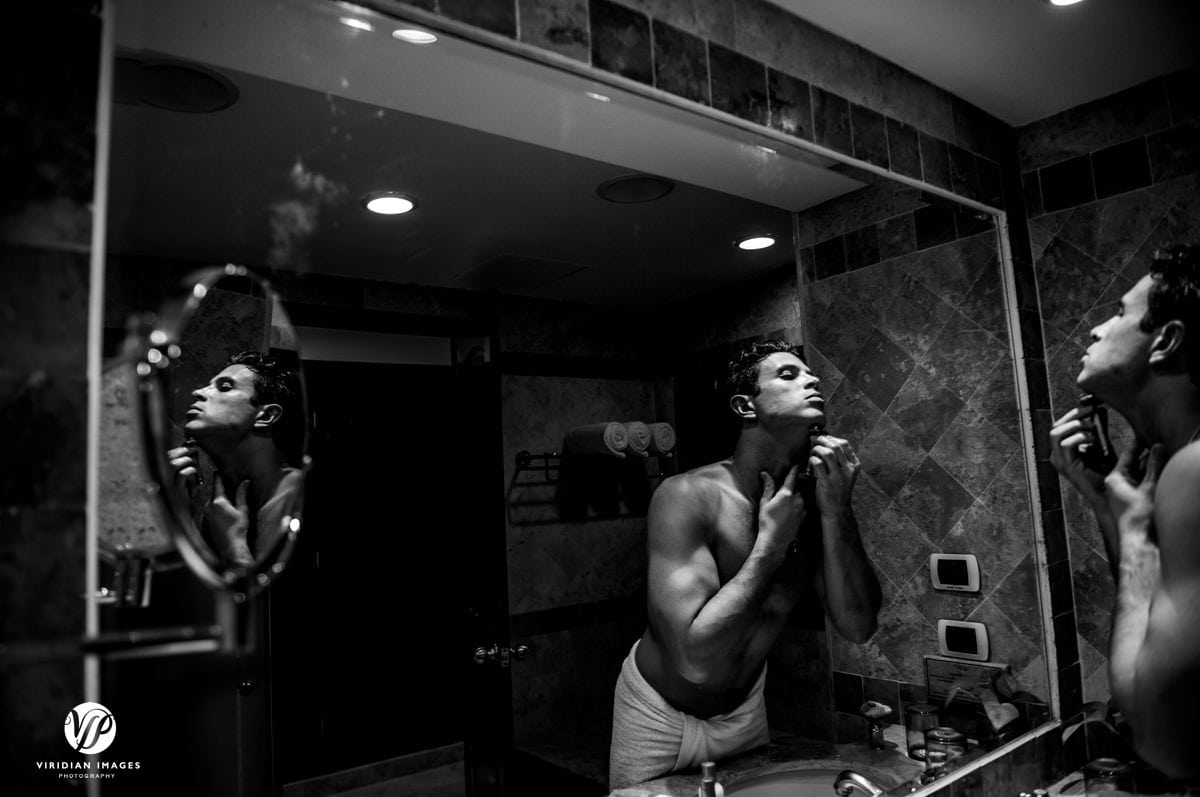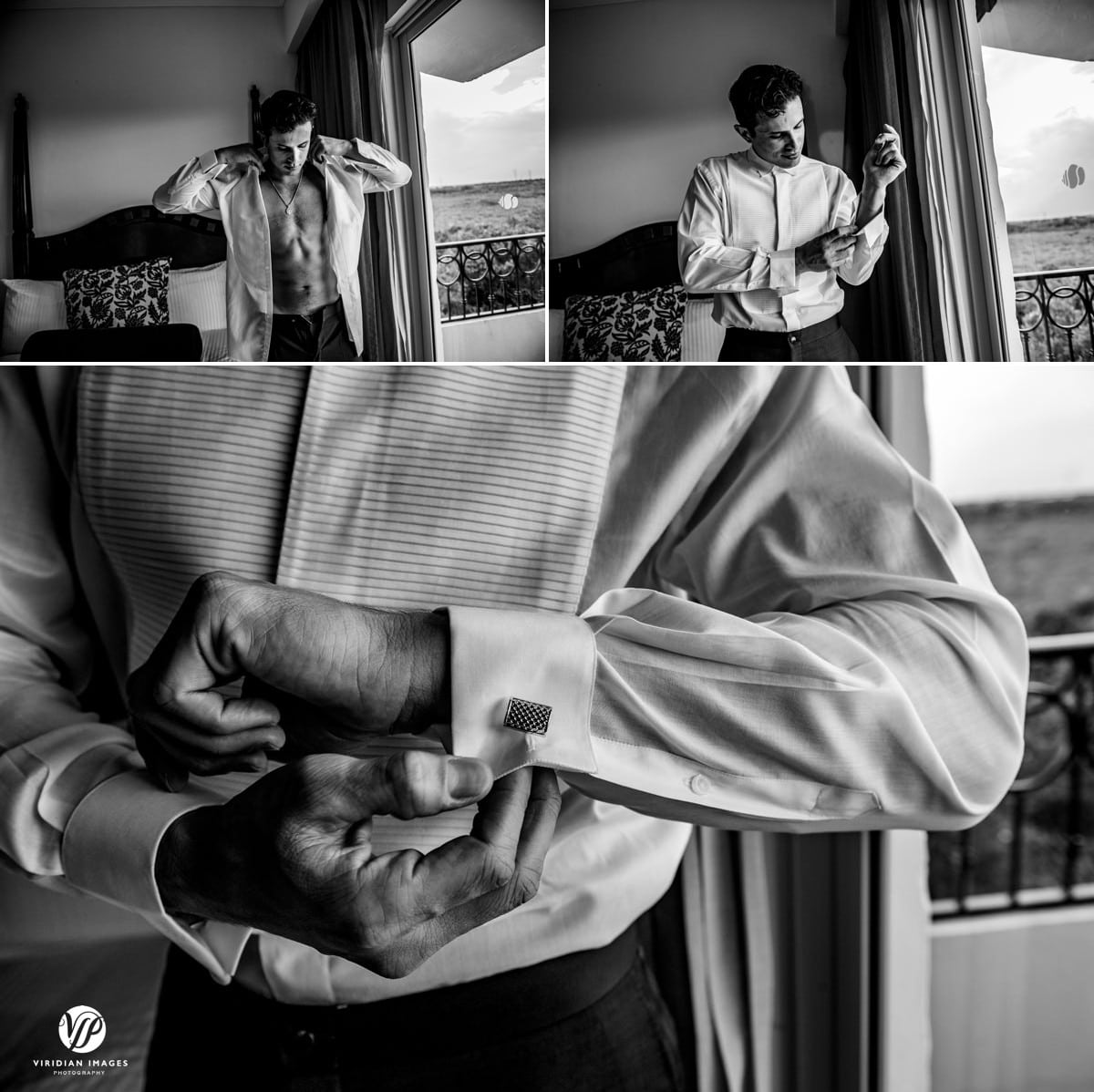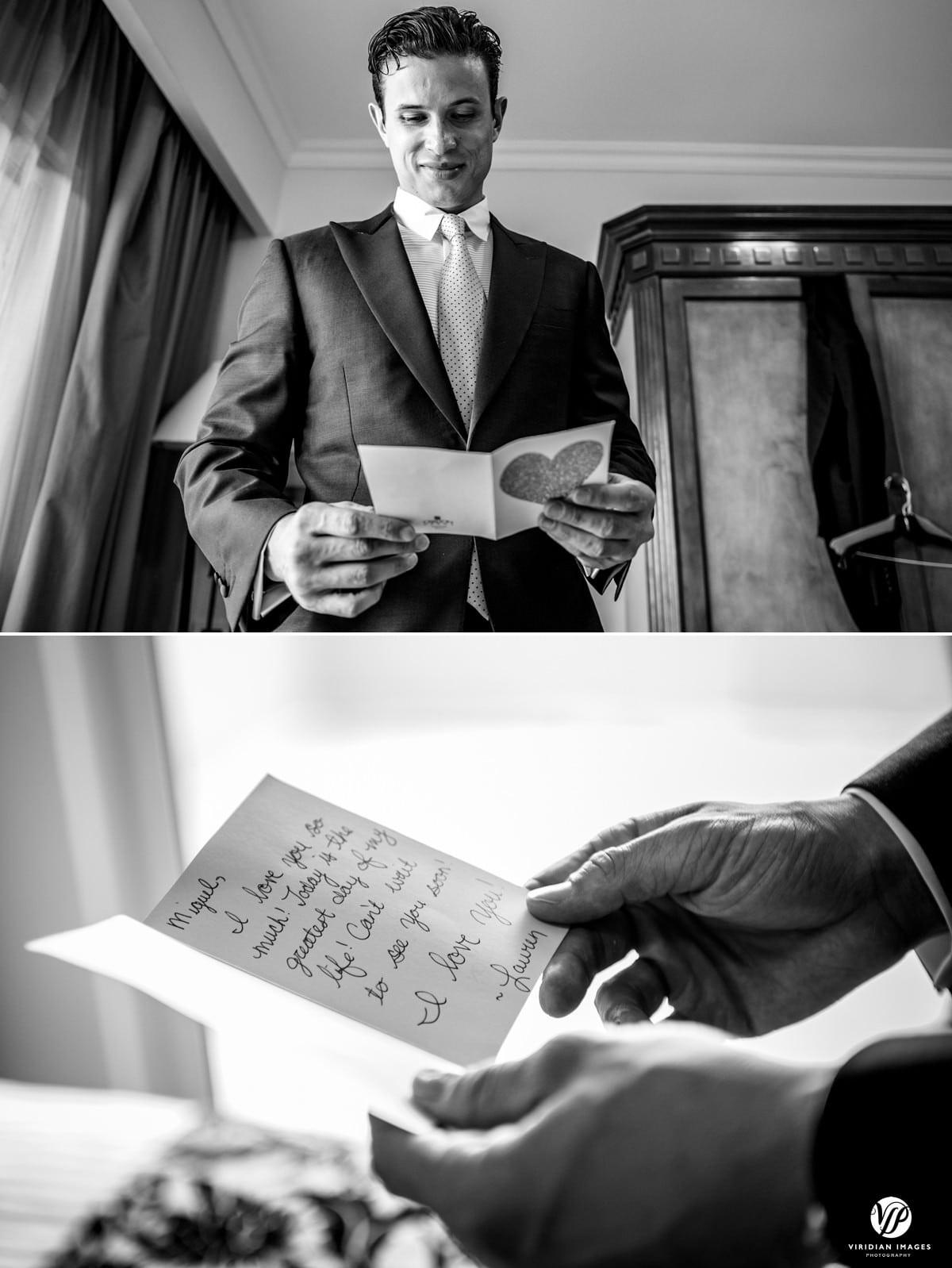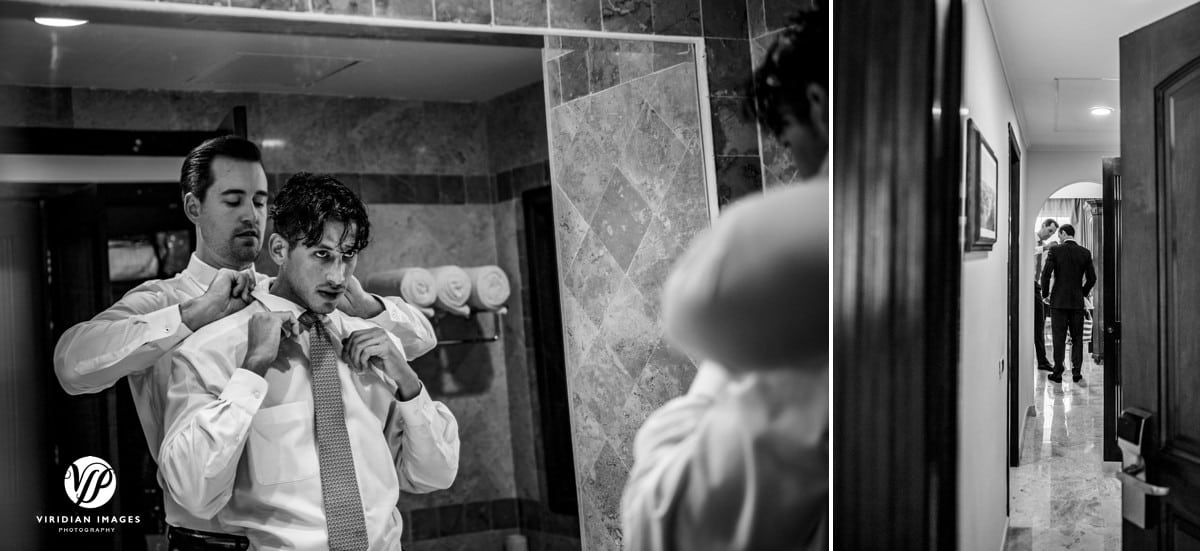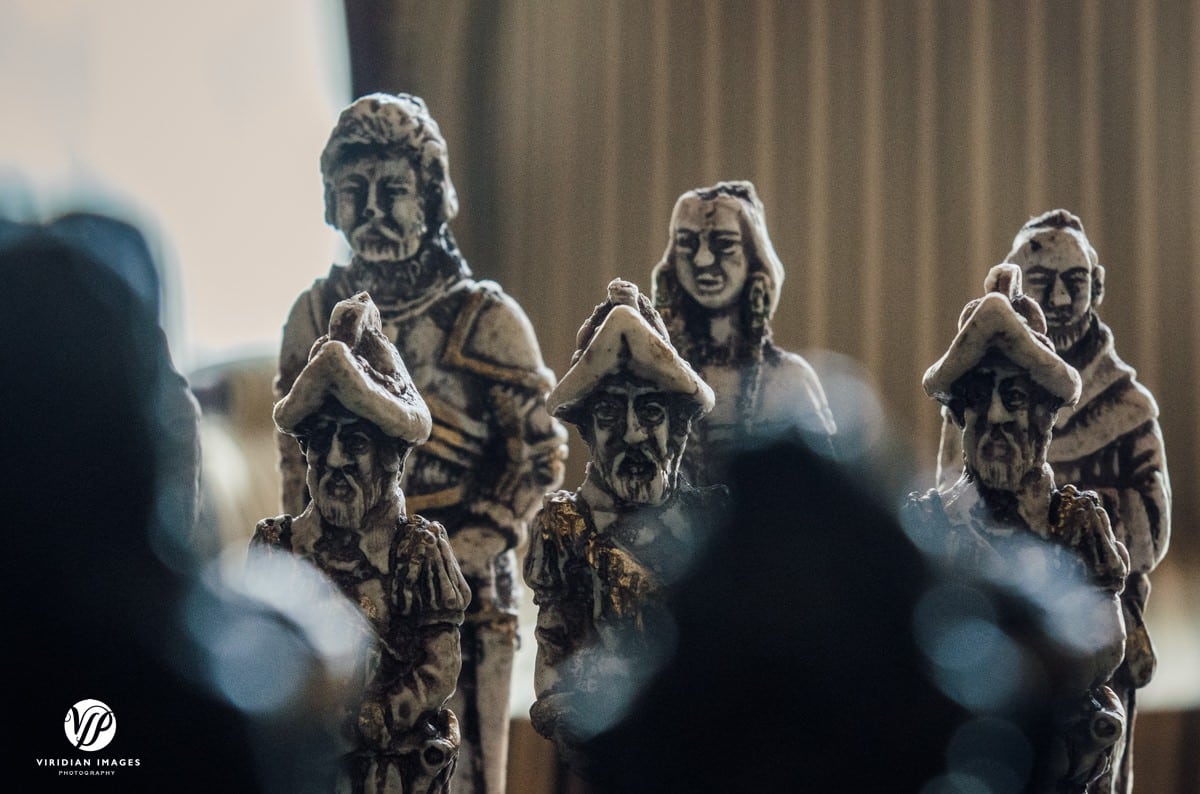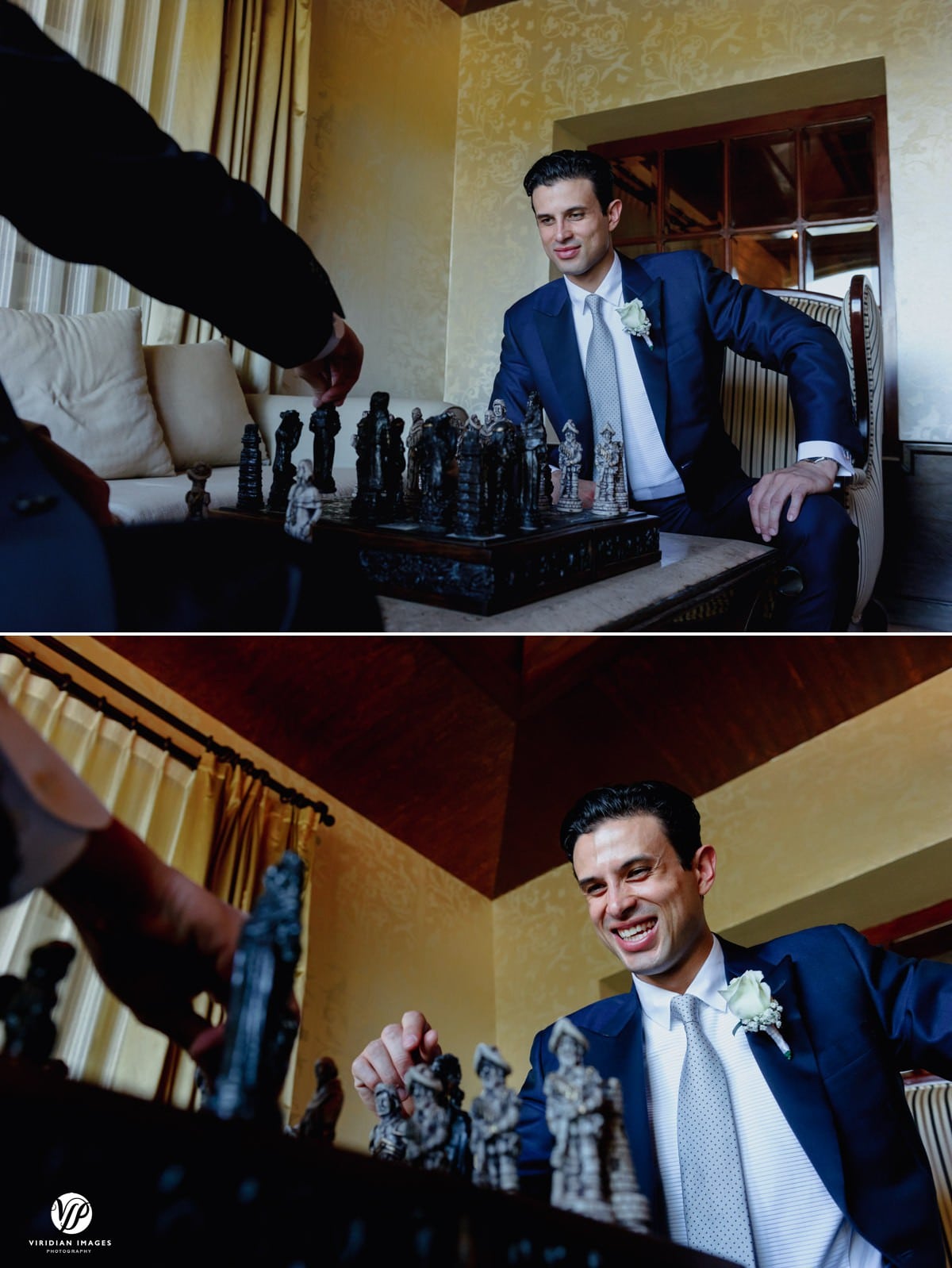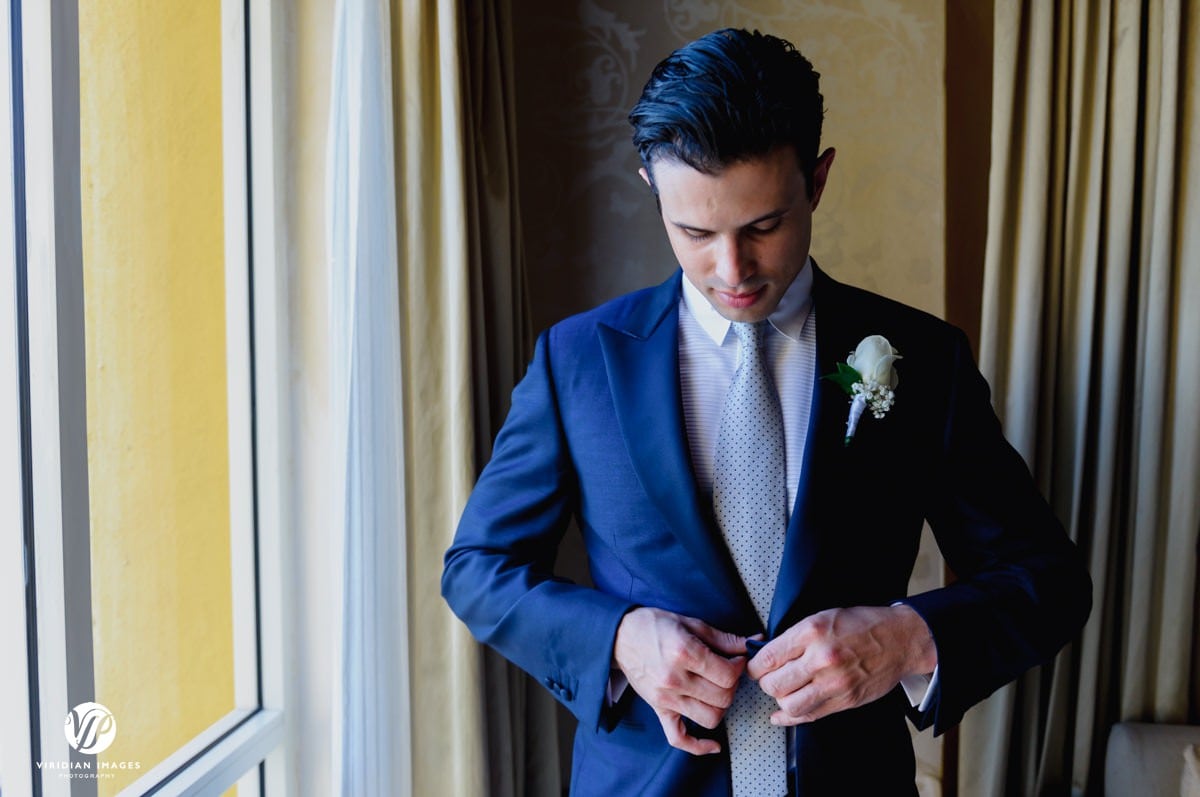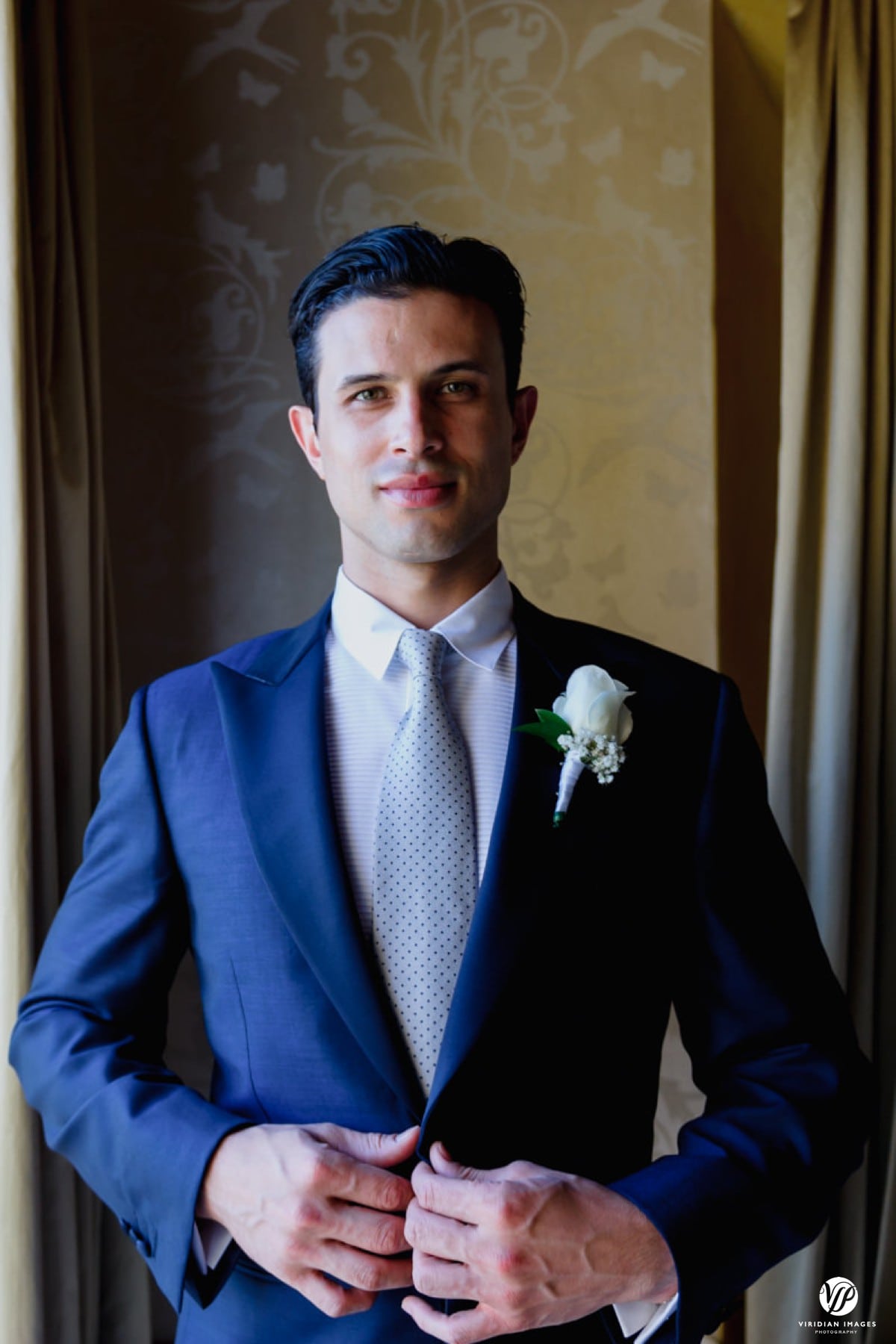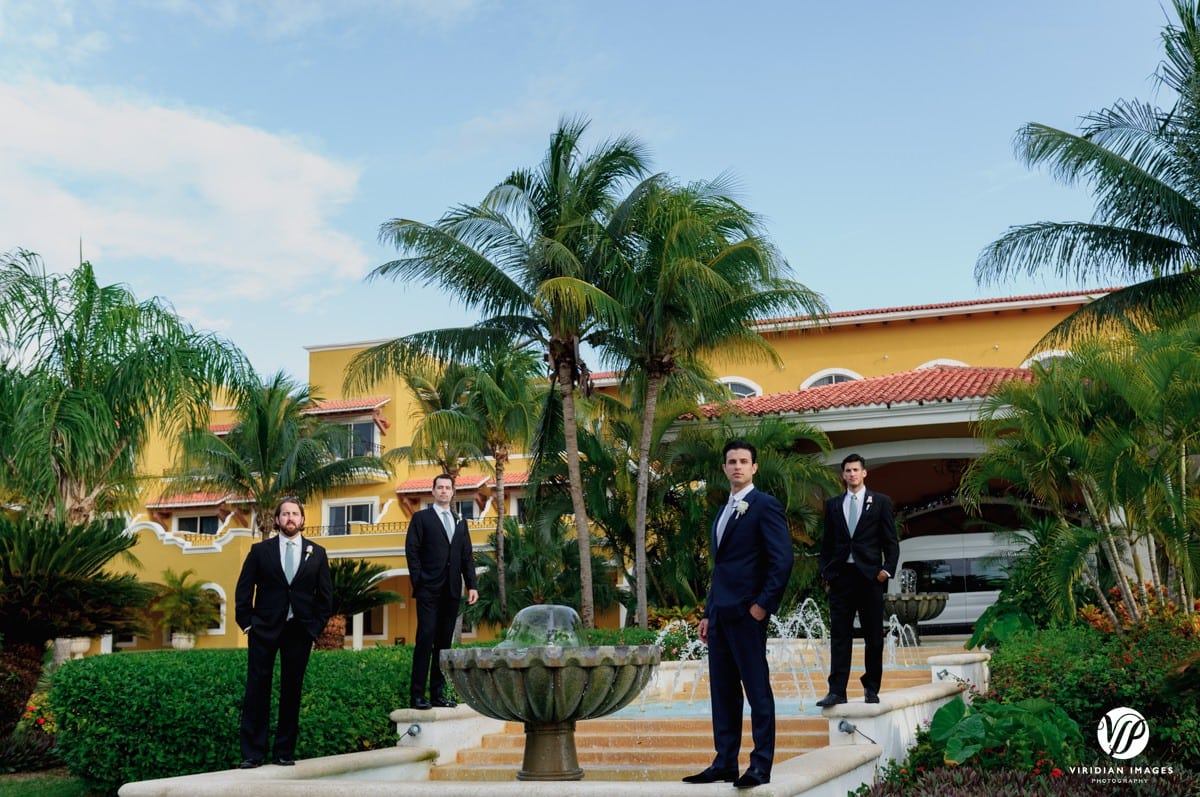 It's show time!
Finally it's time for the ceremony. A beautiful flower trellis stands right by the shoreline of the beach. All the guests have been seated and Miguel makes his way to his spot. From a distance it's a picture perfect postcard of an intimate wedding. Here's when the emotions begin to flow. Miguel begins to tear up the moment Lauren turns a corner escorted by her father. A truly genuine feeling that lasts well into the ceremony. After a ring exchange and a sweeping kiss, it's official. They're married!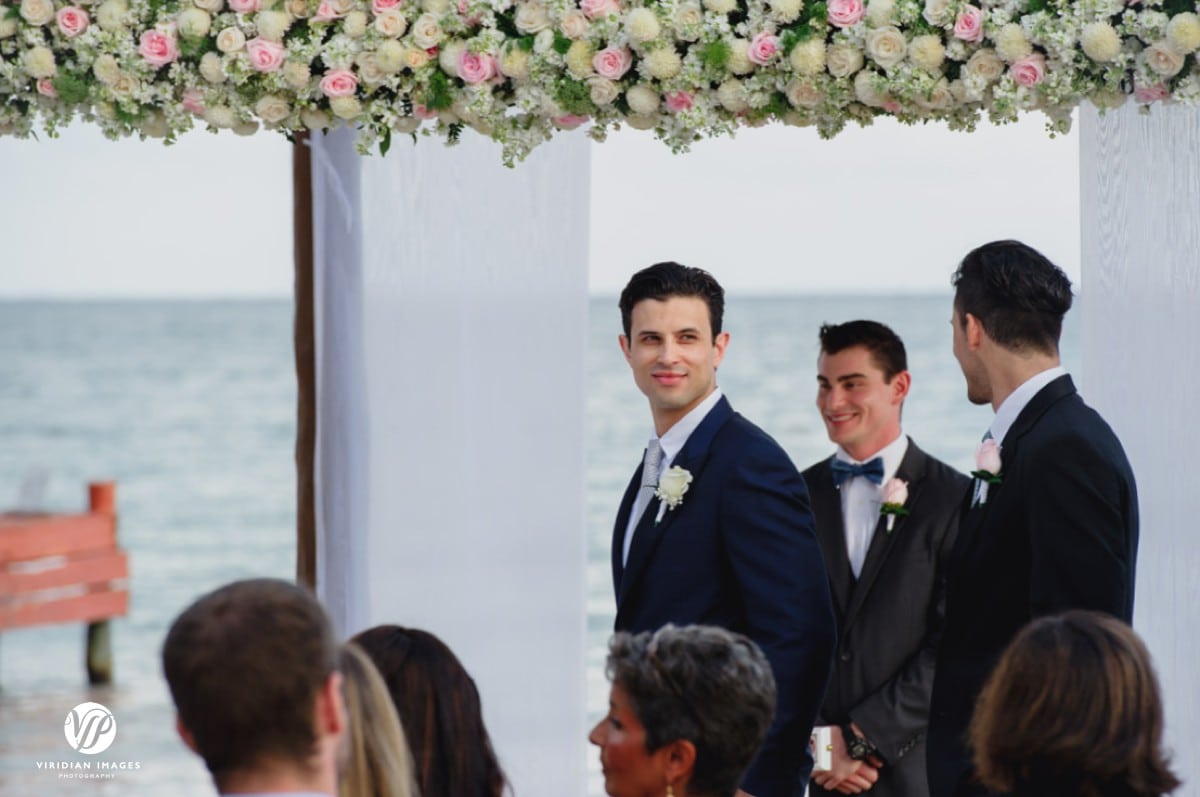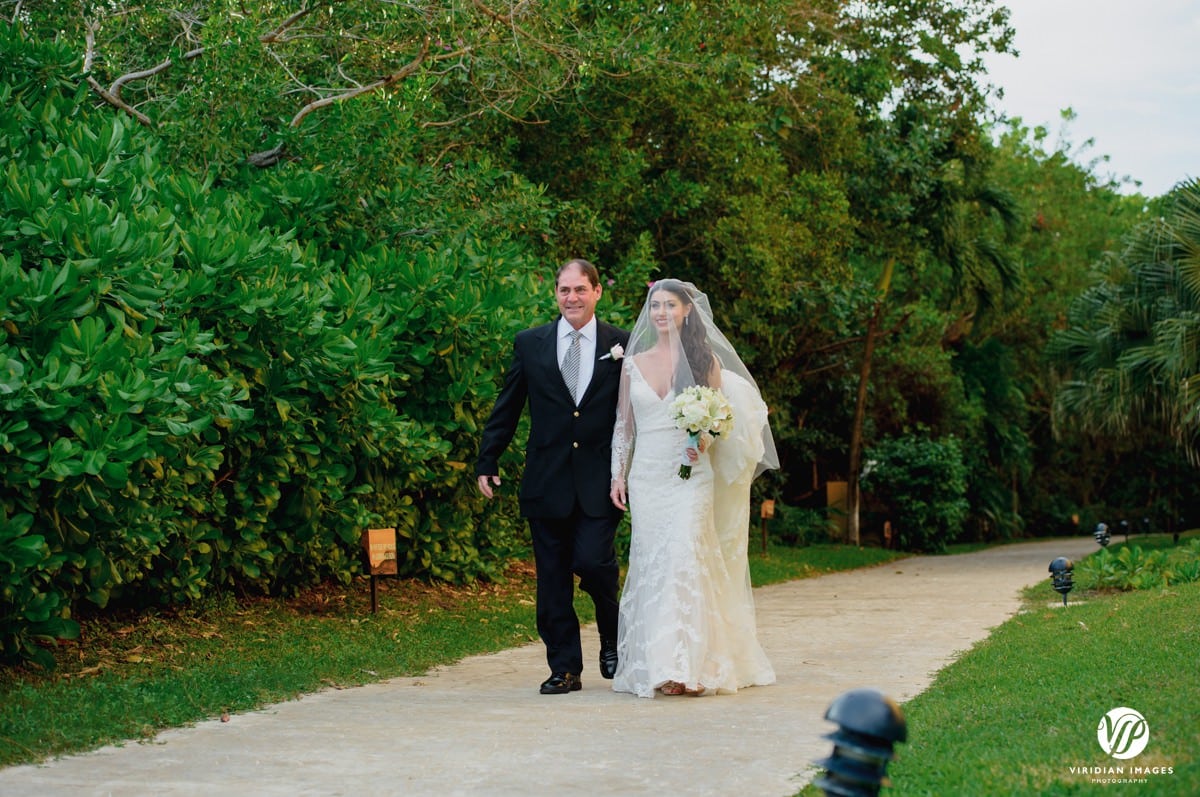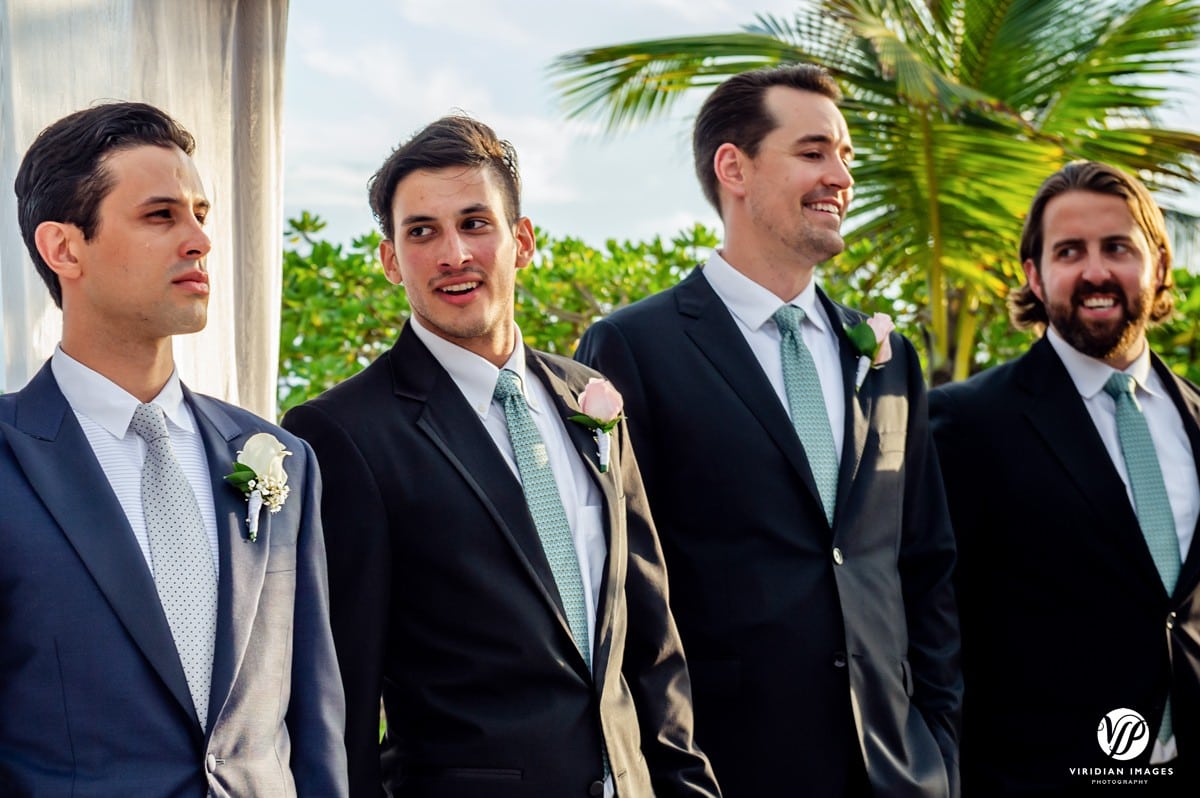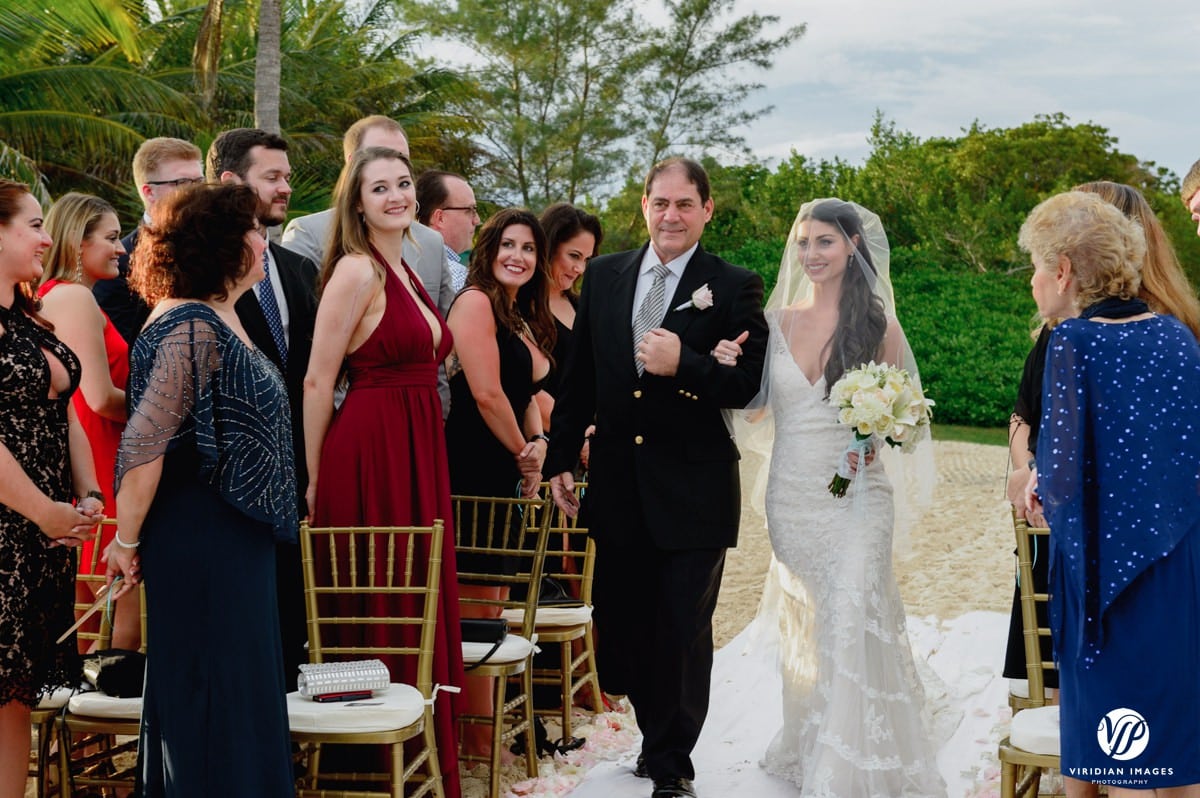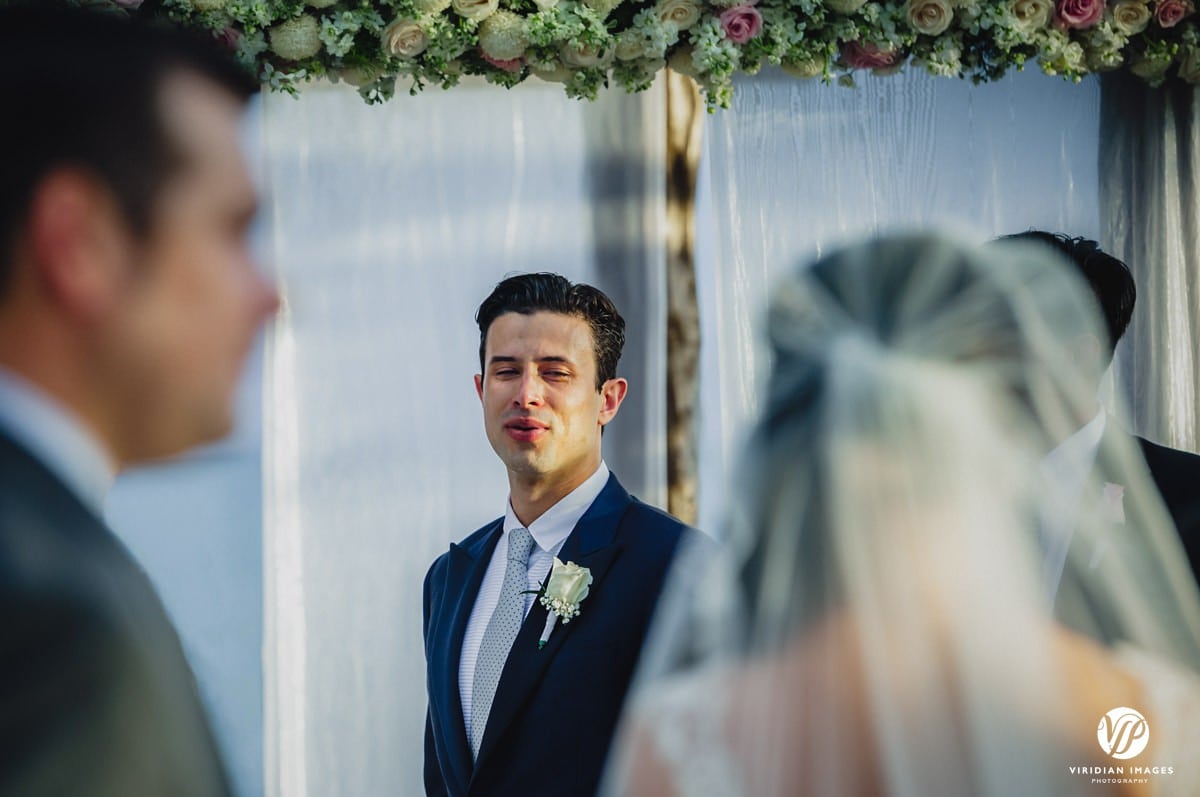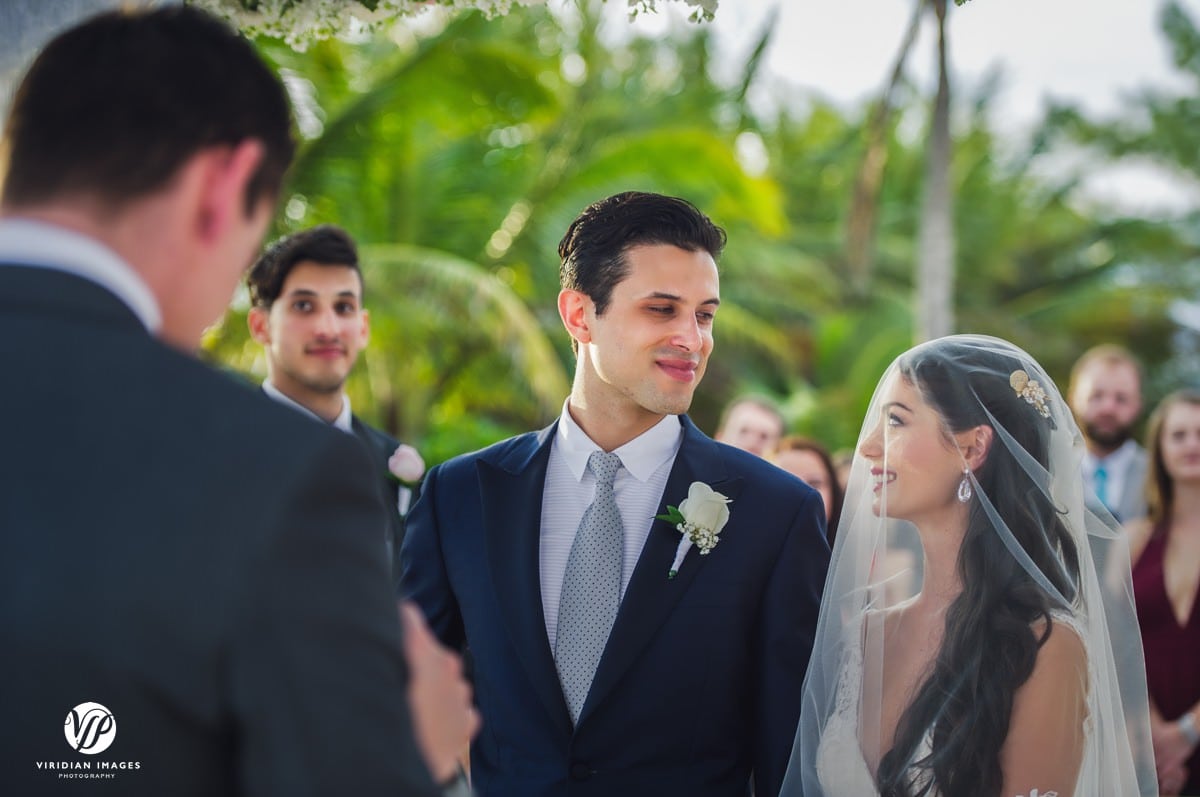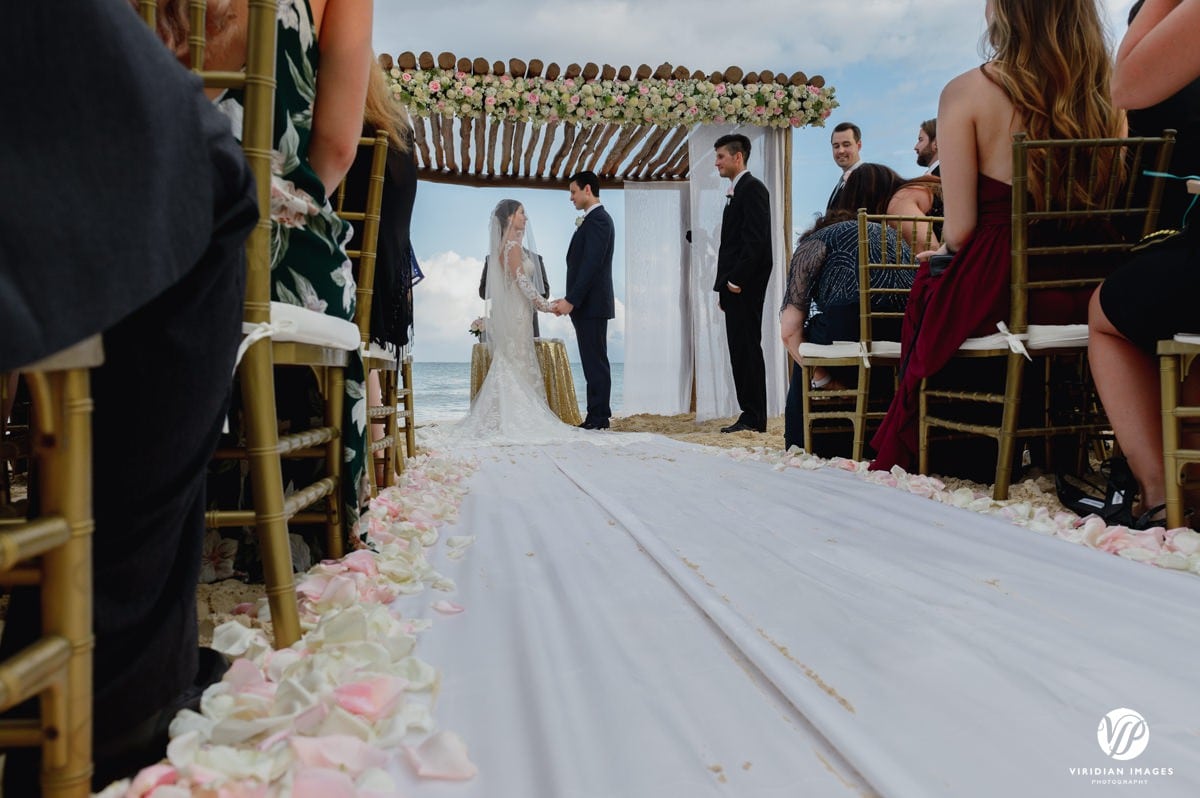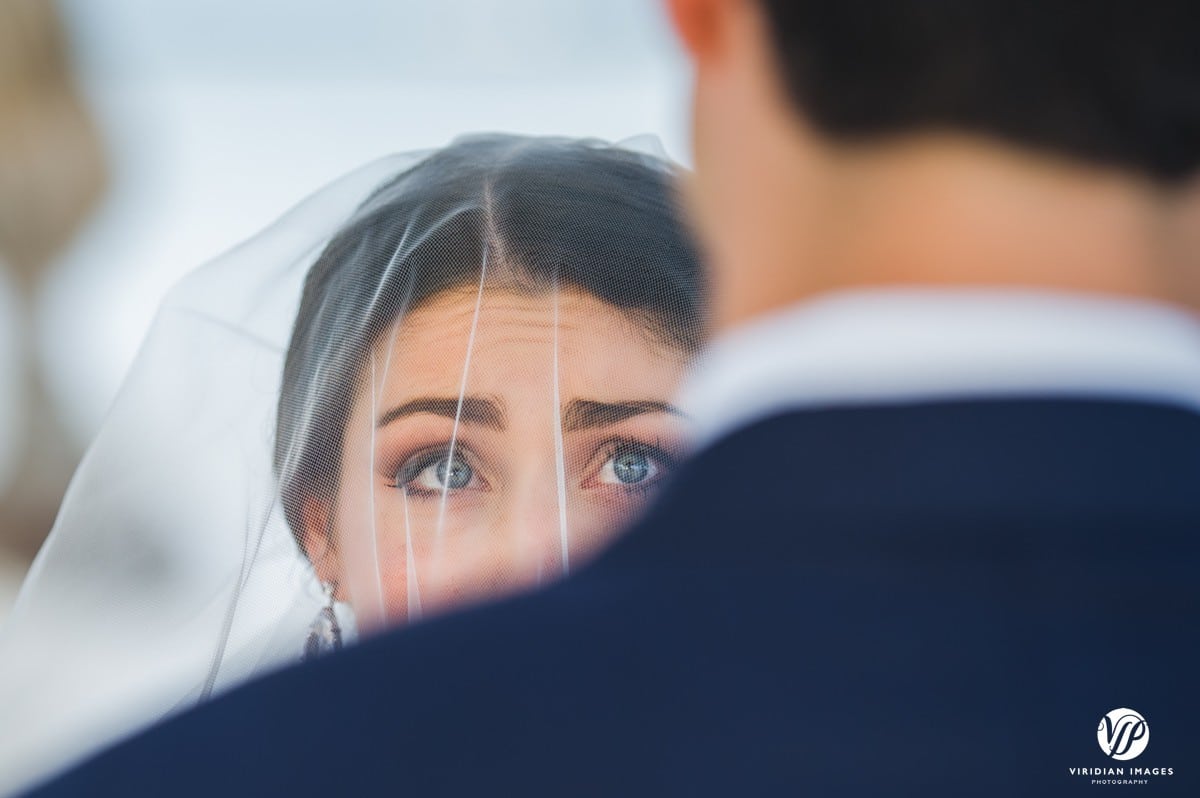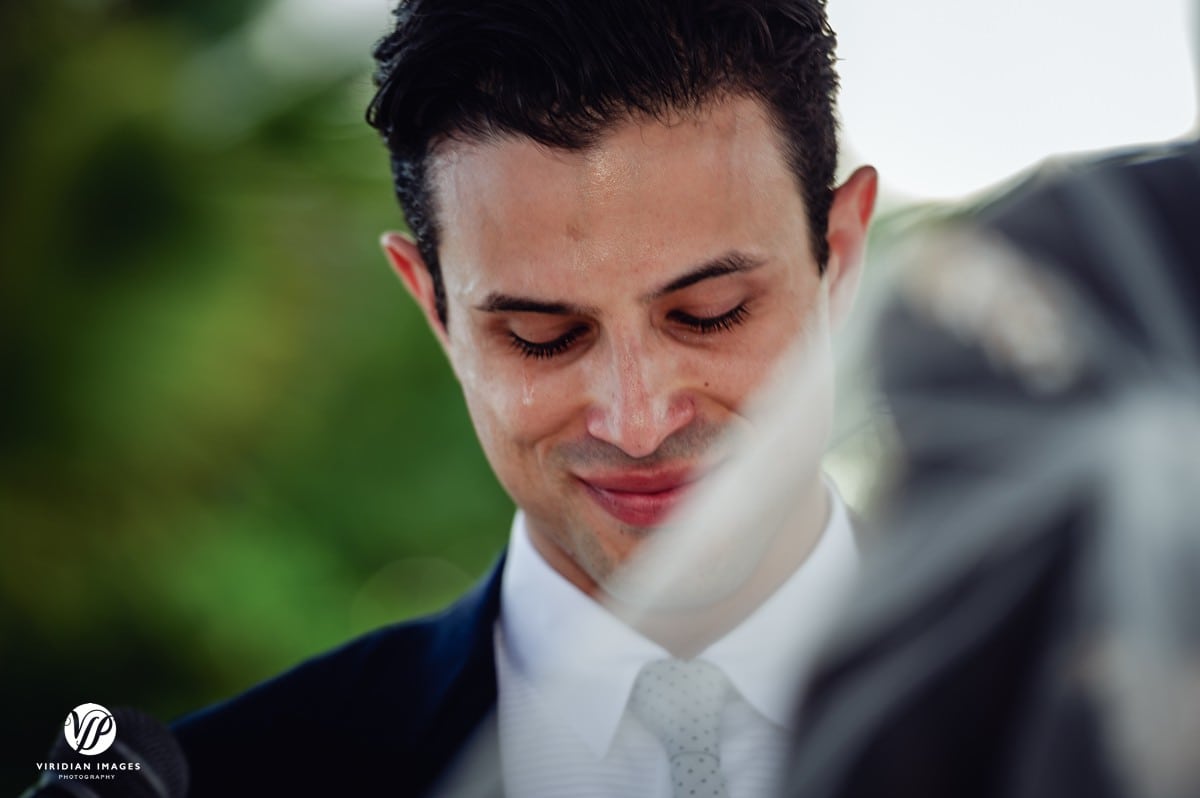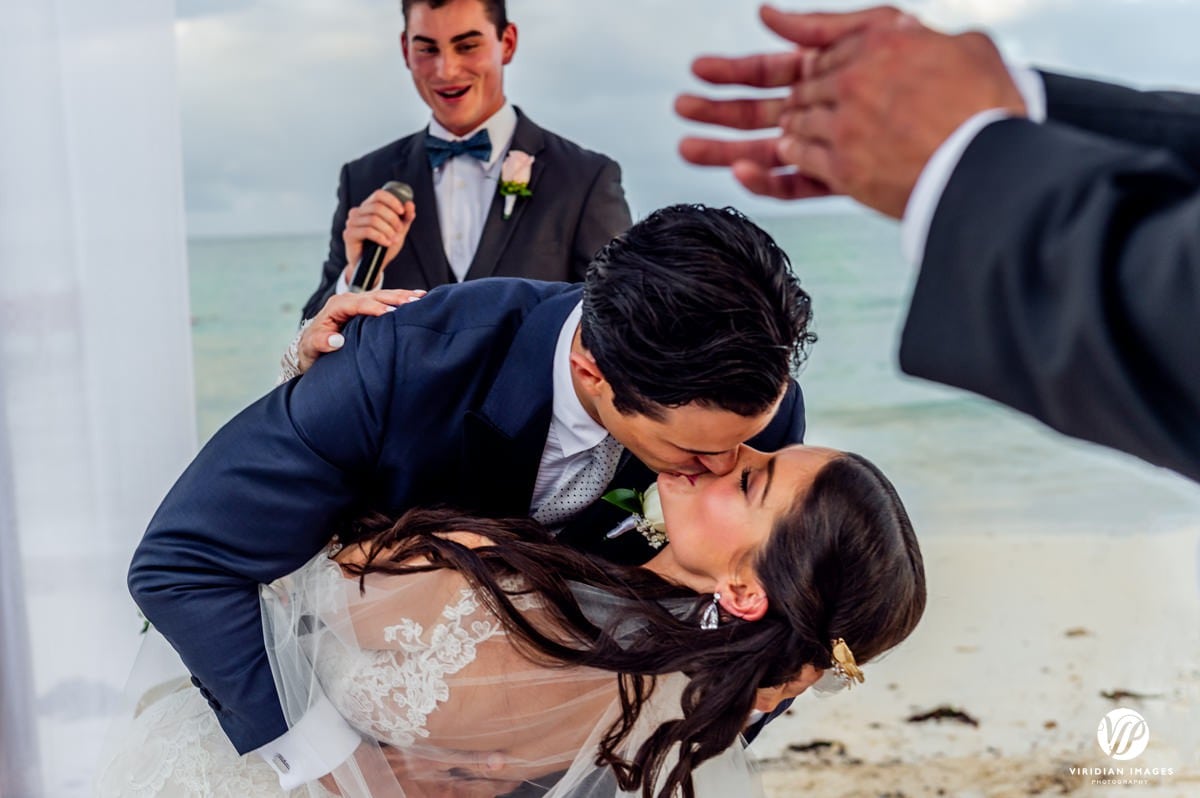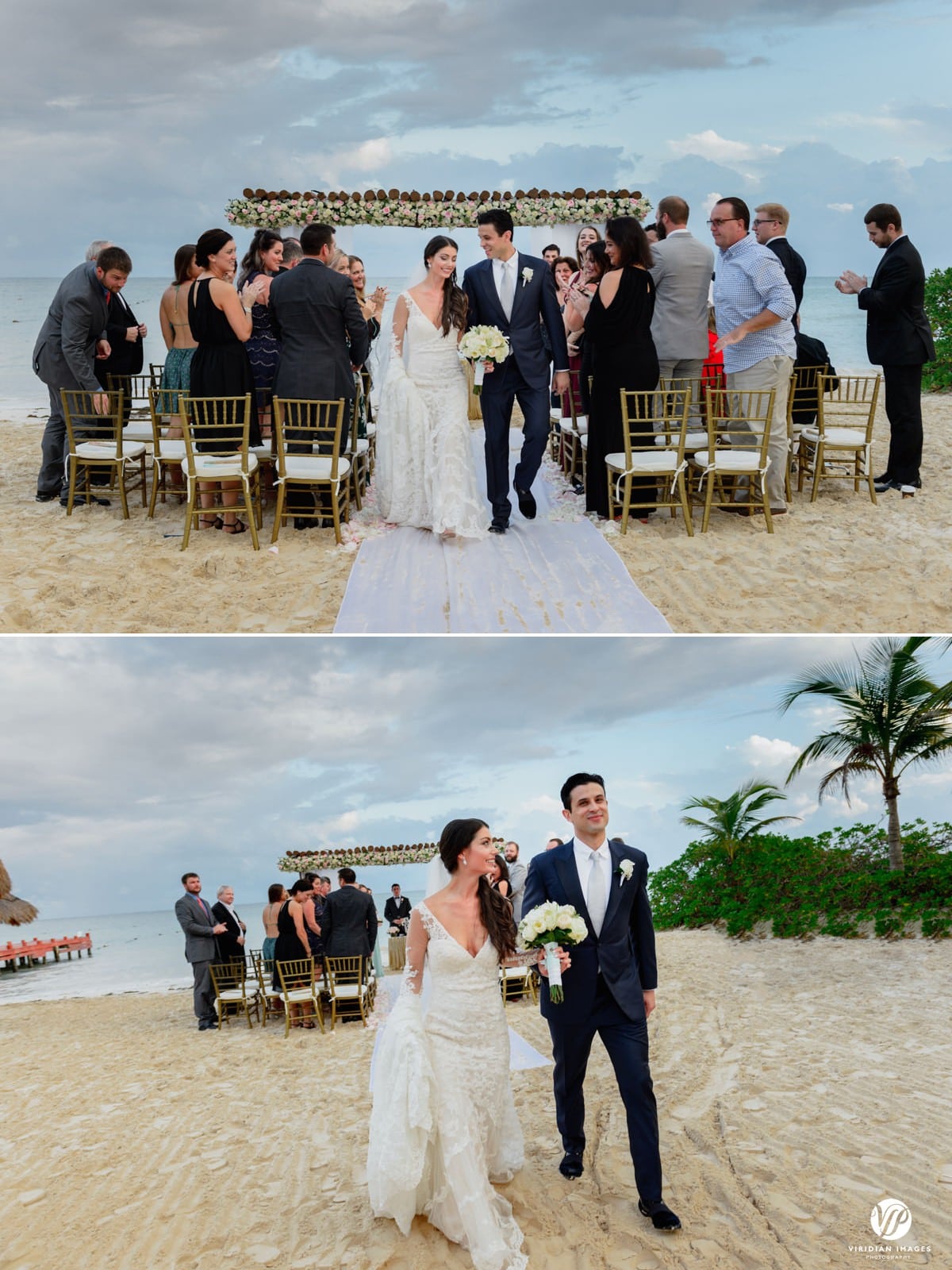 Next stop, bridal portraits!
One of the best parts of any wedding for photographers, particularly when you're in paradise. There's only one problem. Storms are building in the distance. So we have a limited amount of time to take advantage of the views to secure some epic shots while also completing the family photos. Somehow, some way we're able to grab all of the essentials before the clouds open up and drop buckets of rain on us. Everyone scurries indoors and we continue our coverage inside. Thankfully this resort offers a vast array of interior locations to create gorgeous wedding images. The bride and groom take a few minutes to freshen up and before you know it we're shooting again. Just about every corner of the building offers something unique to shoot with. From the large Mexican paintings on the wall to the expansive ornate hallways to the grand staircase and the golden dome ceiling at the very top of the hotel. However the lantern foyer is truly a unique spot that everyone remembers fondly.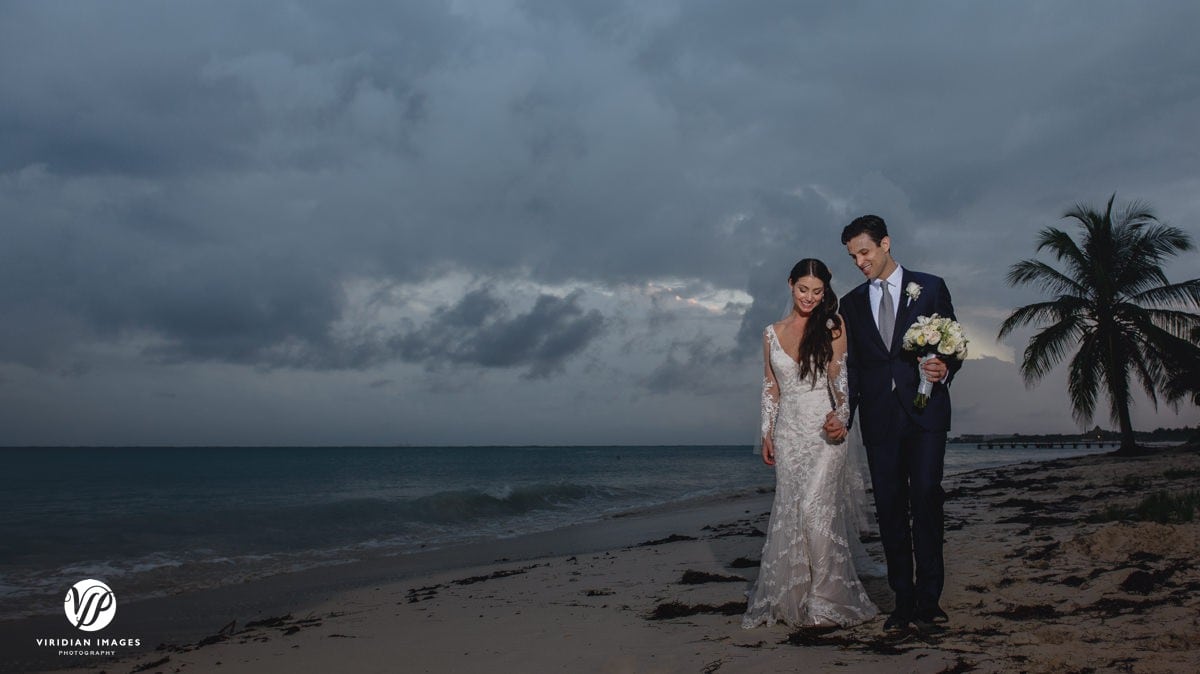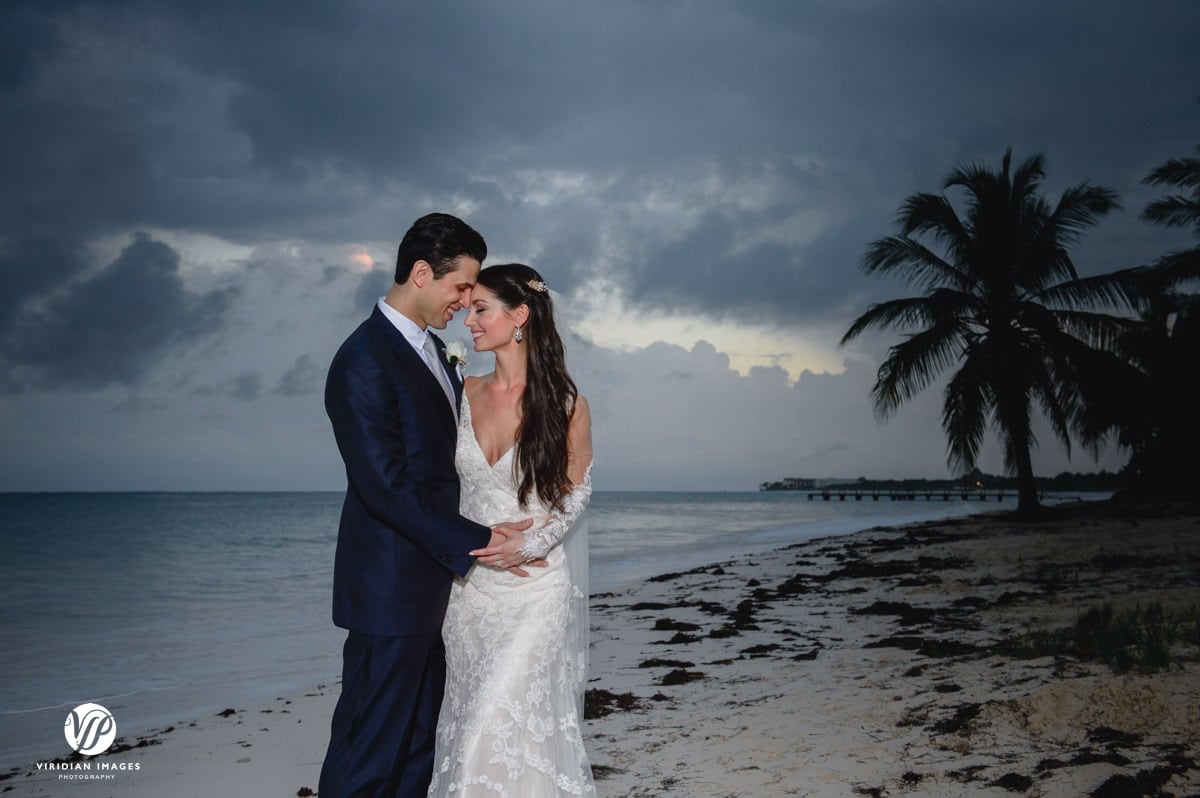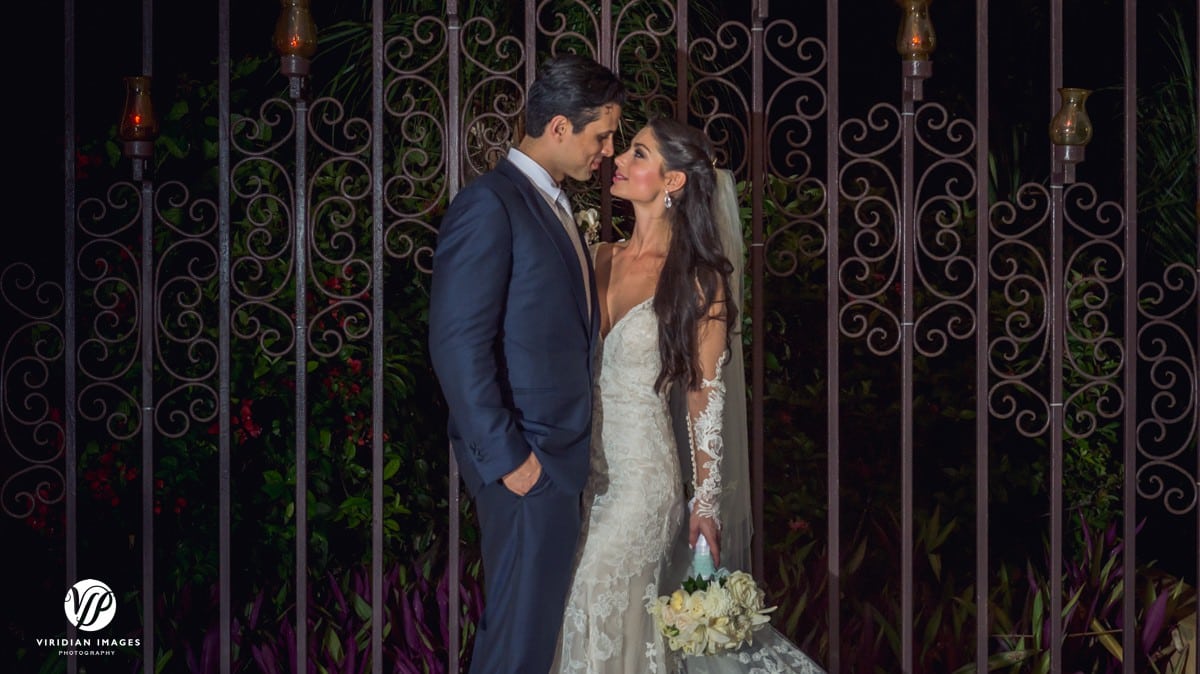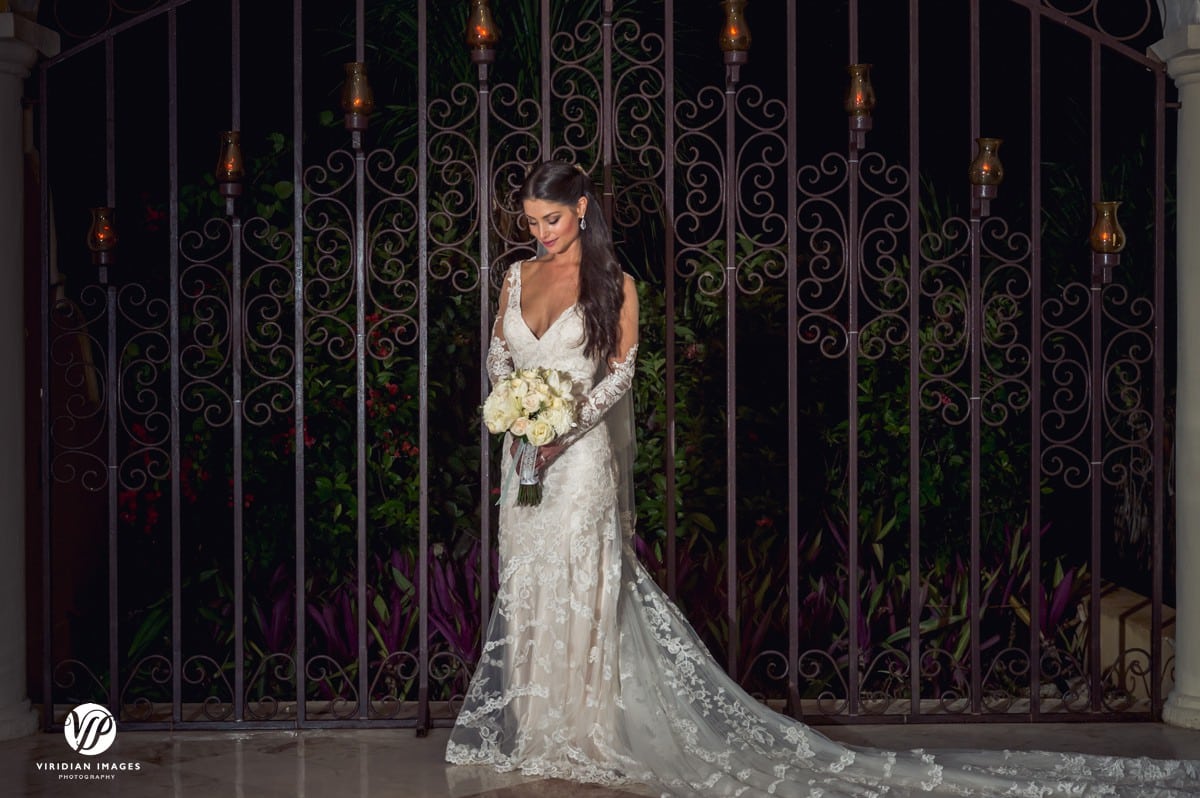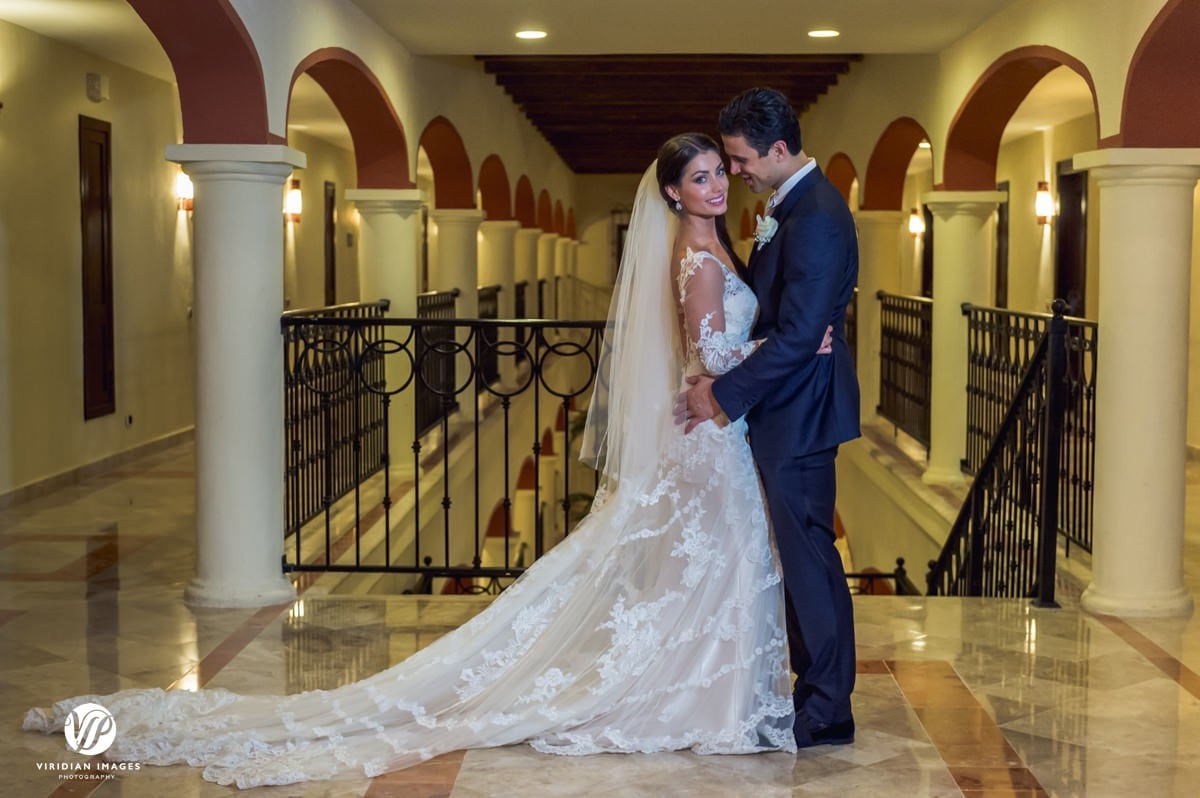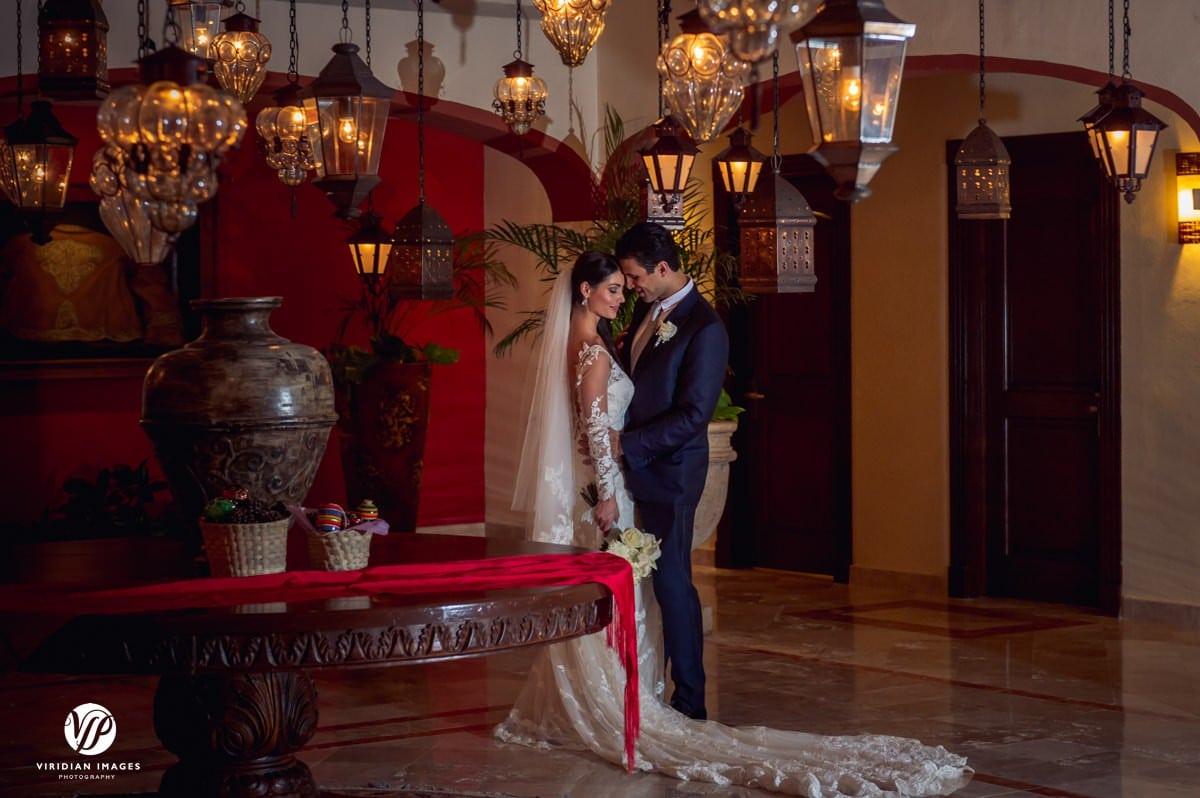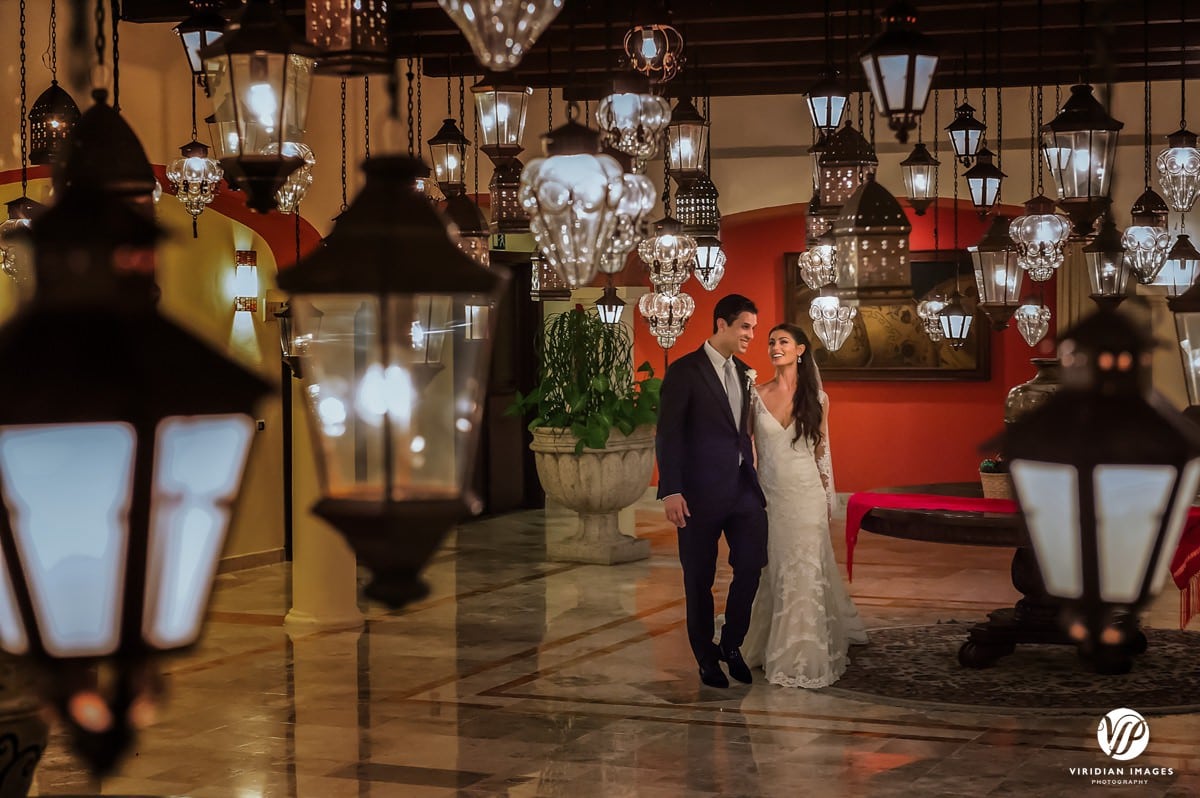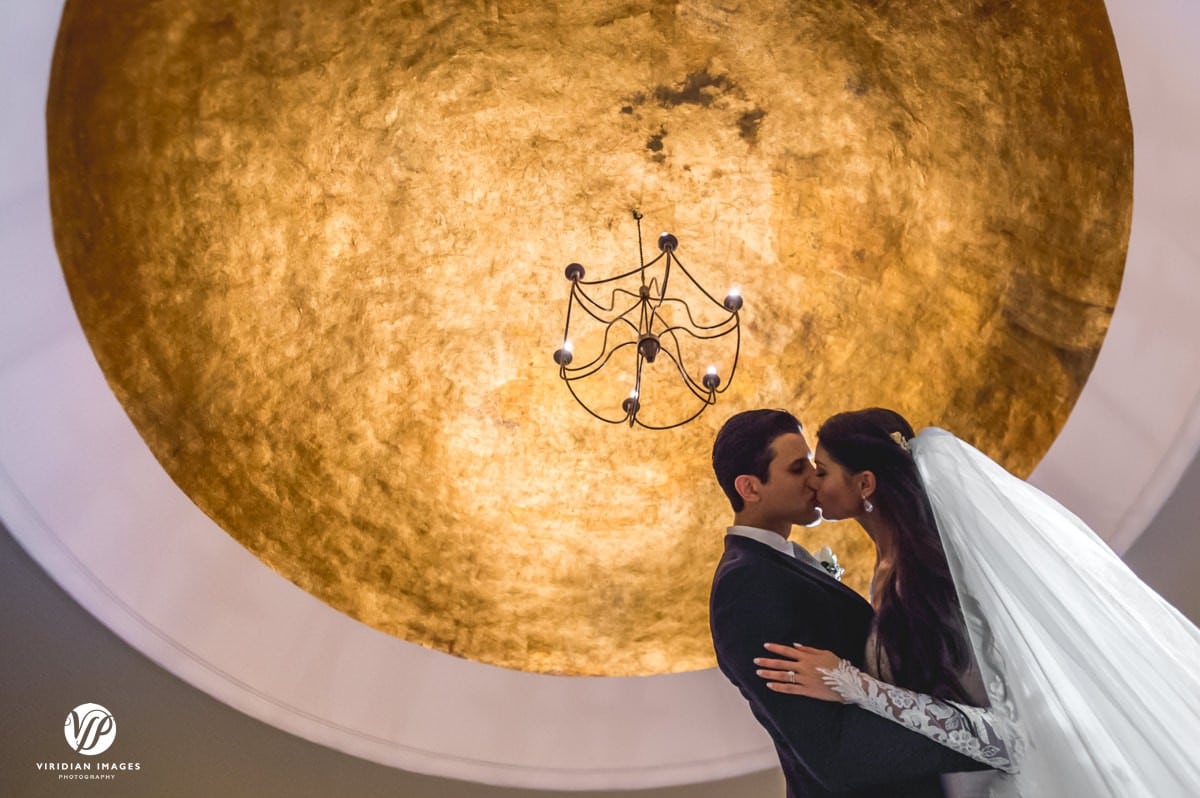 Thankfully Miguel and Lauren appreciate the importance of photography. So we had plenty of time to create a variety of images before having to head back to attend to their guests.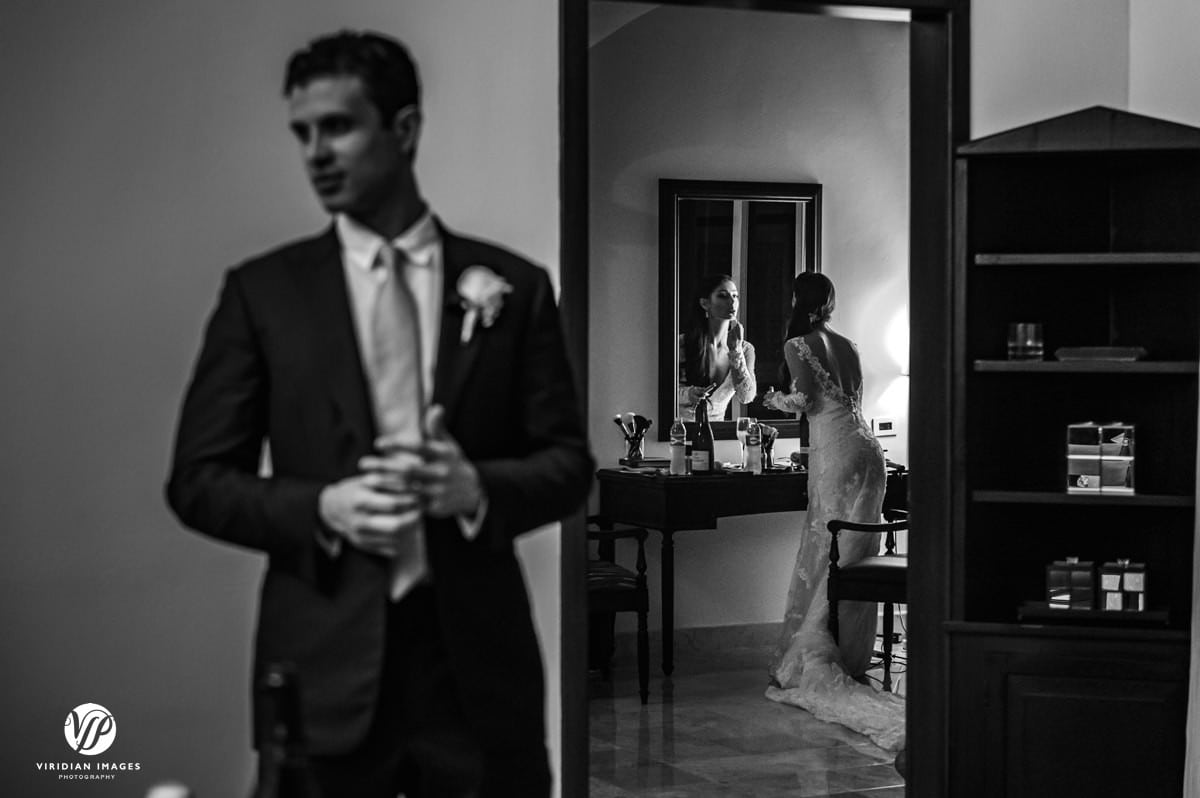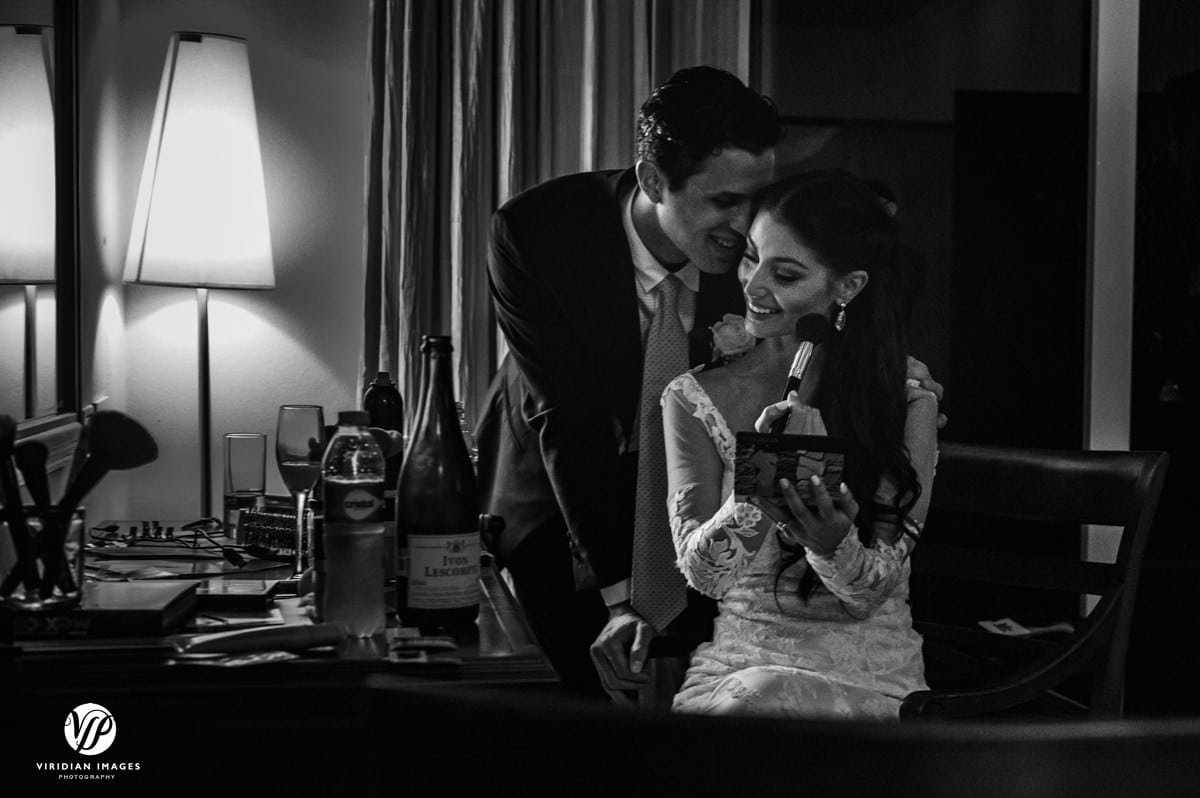 Let's get this party started
The reception was a fast moving series events. A beautifully tender first dance from the couple was followed by tearful dances with their parents. The toasts were heartfelt but hilarious and straight to the point. The dinner was fabulous and the cake cutting was playful. But make no mistake about it. The focus for this evening was on getting down. So the dancing began. This wasn't a 400 guest wedding. It was a much more intimate group. Yet they could party like nobody's business!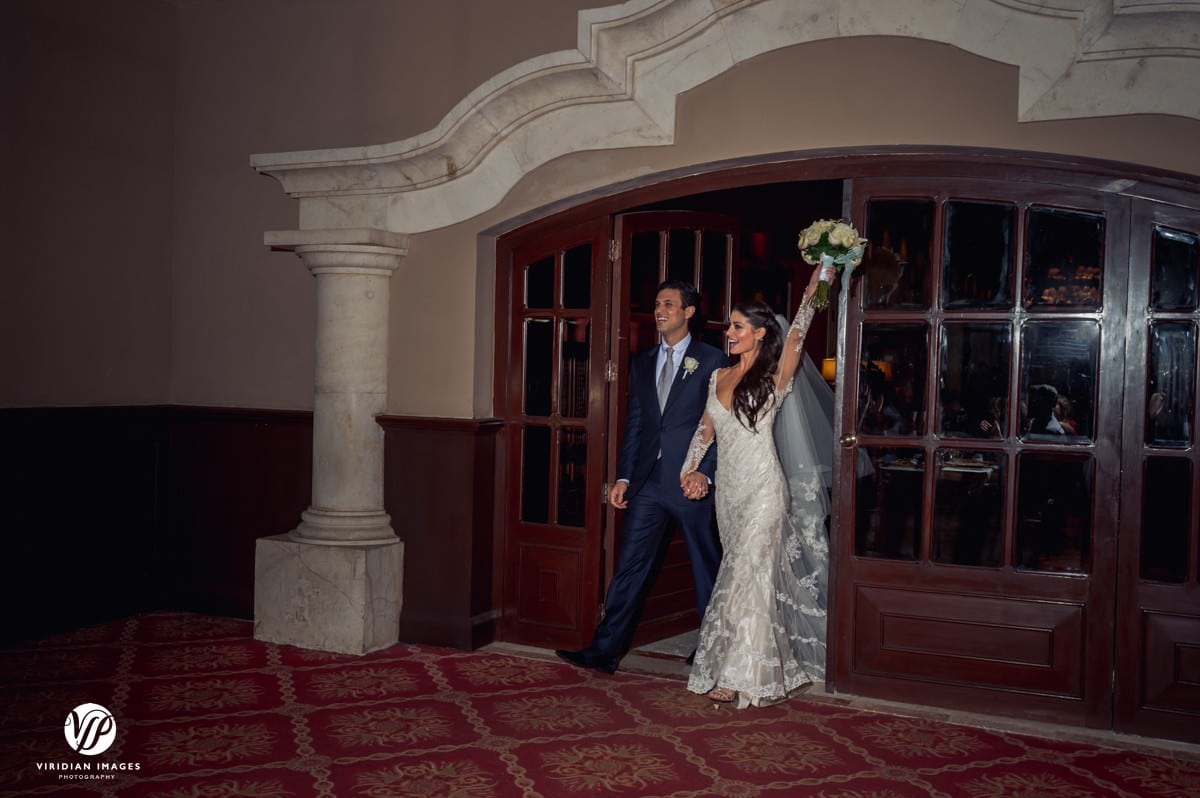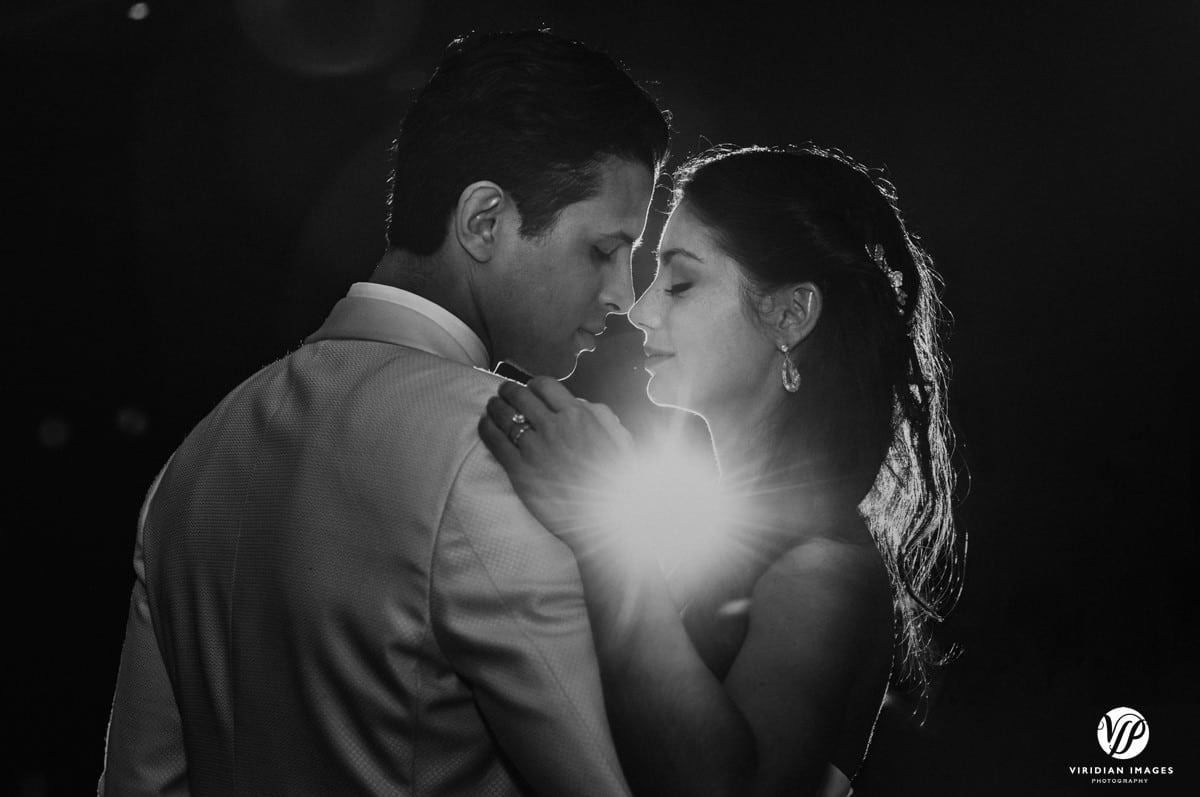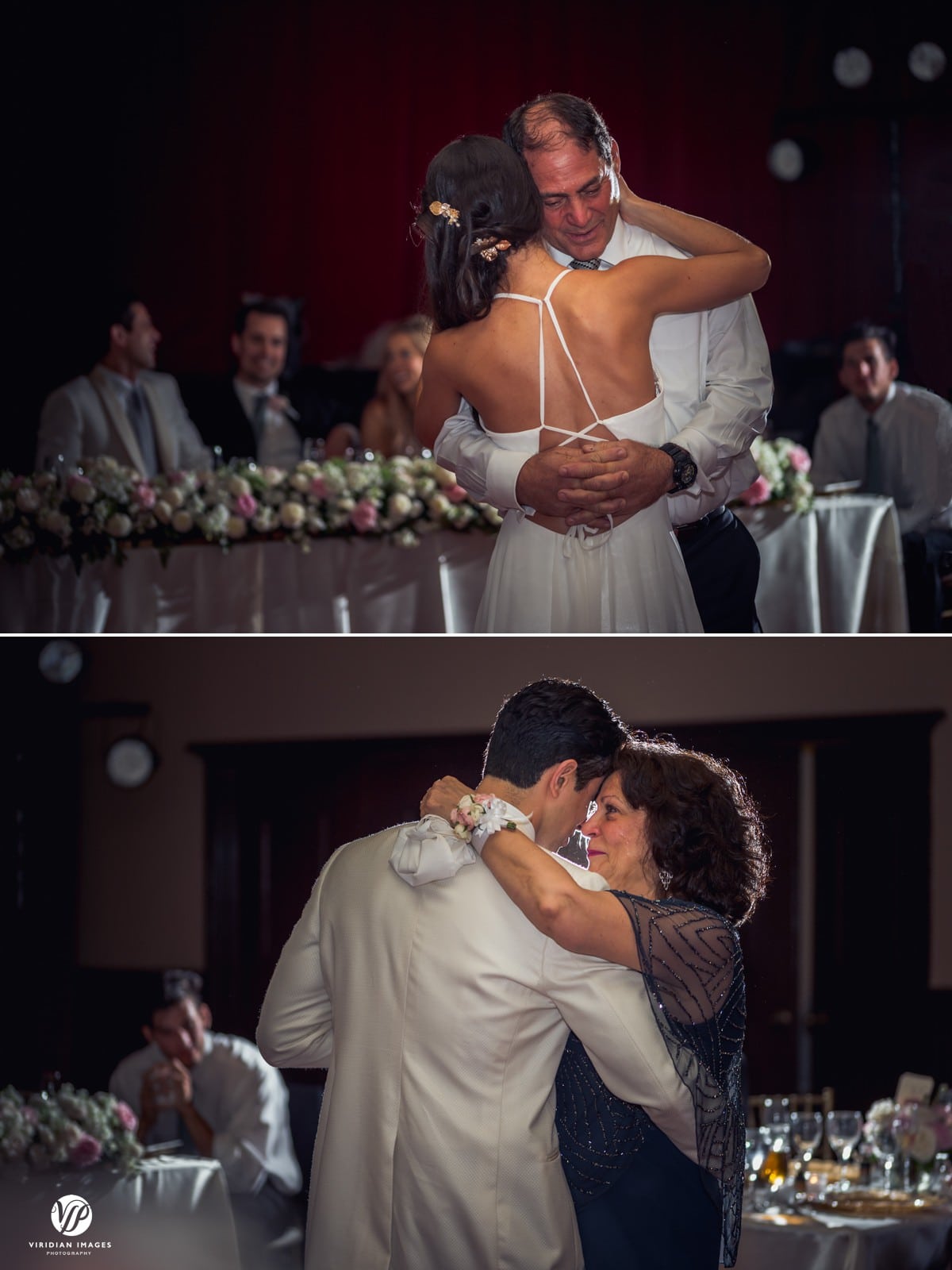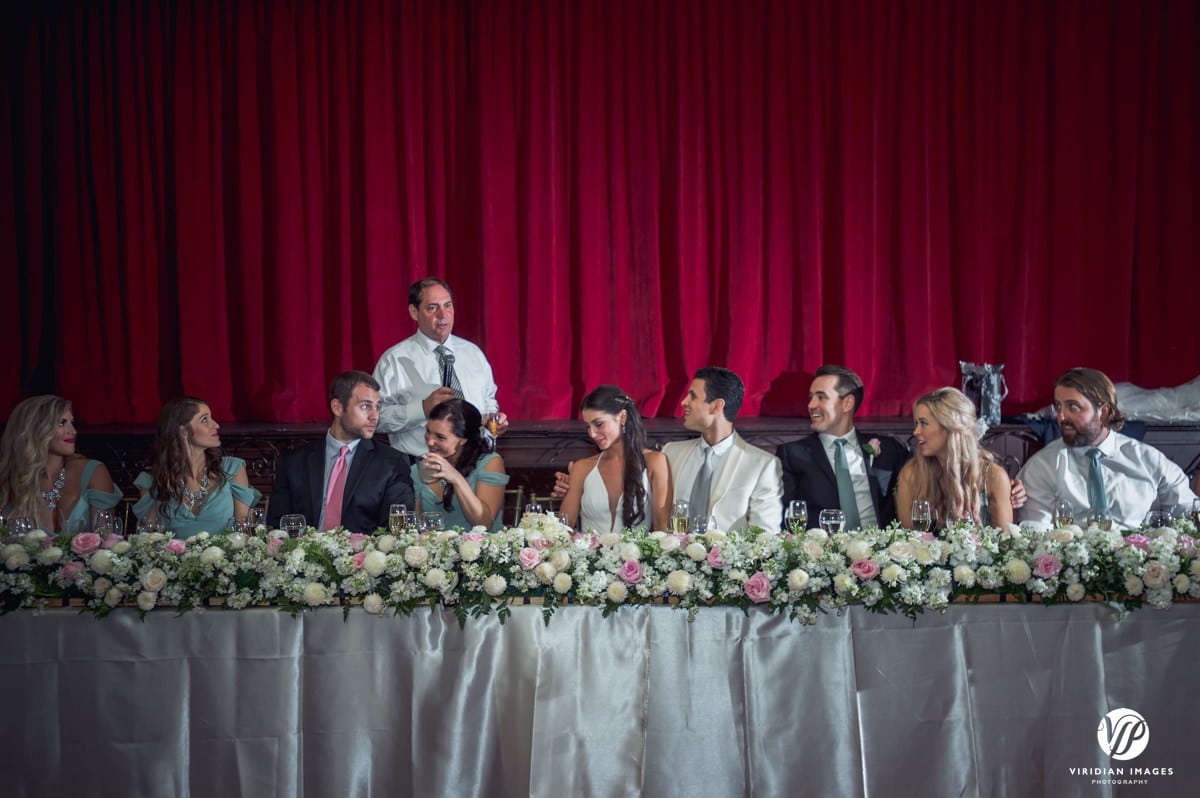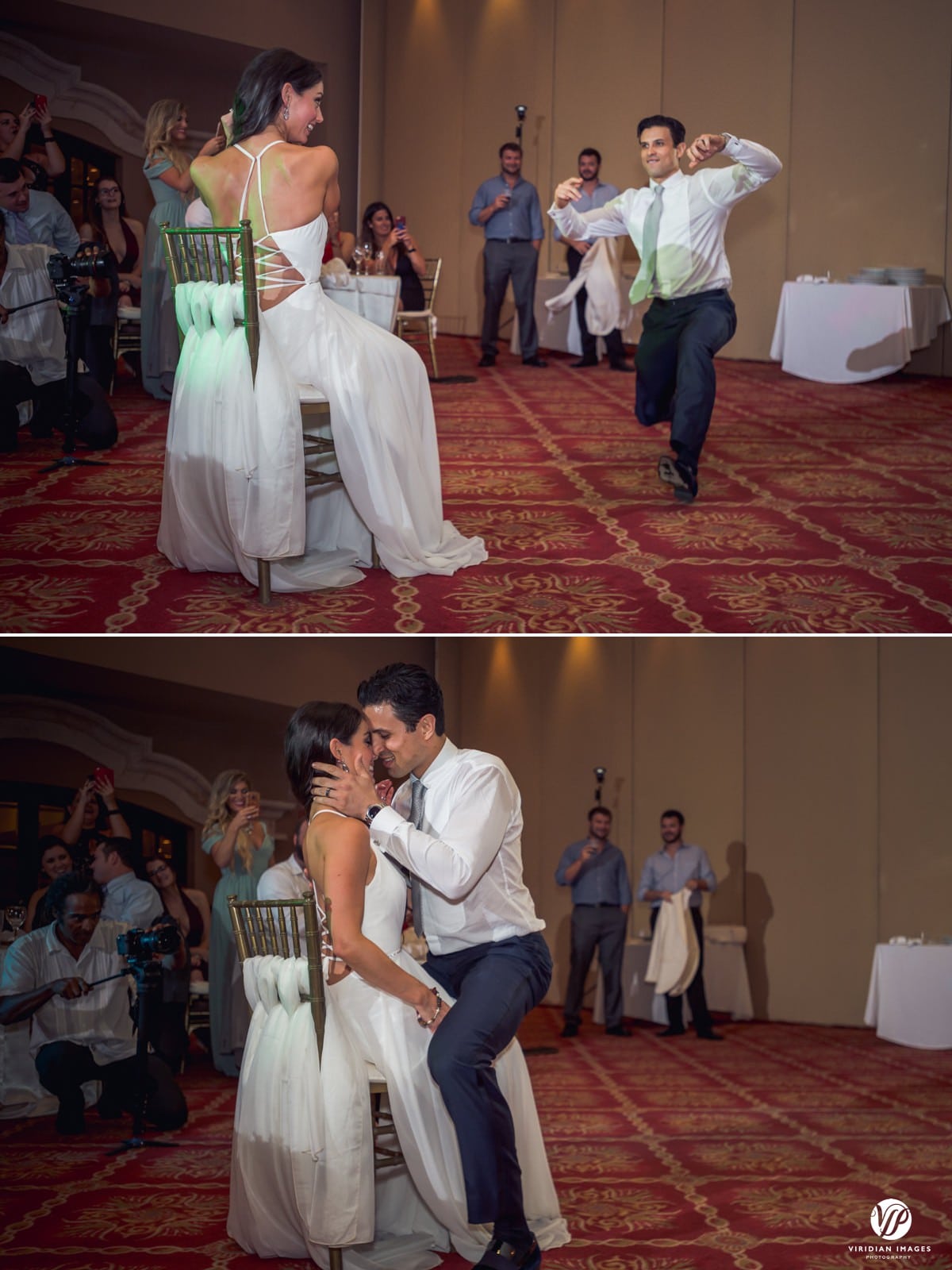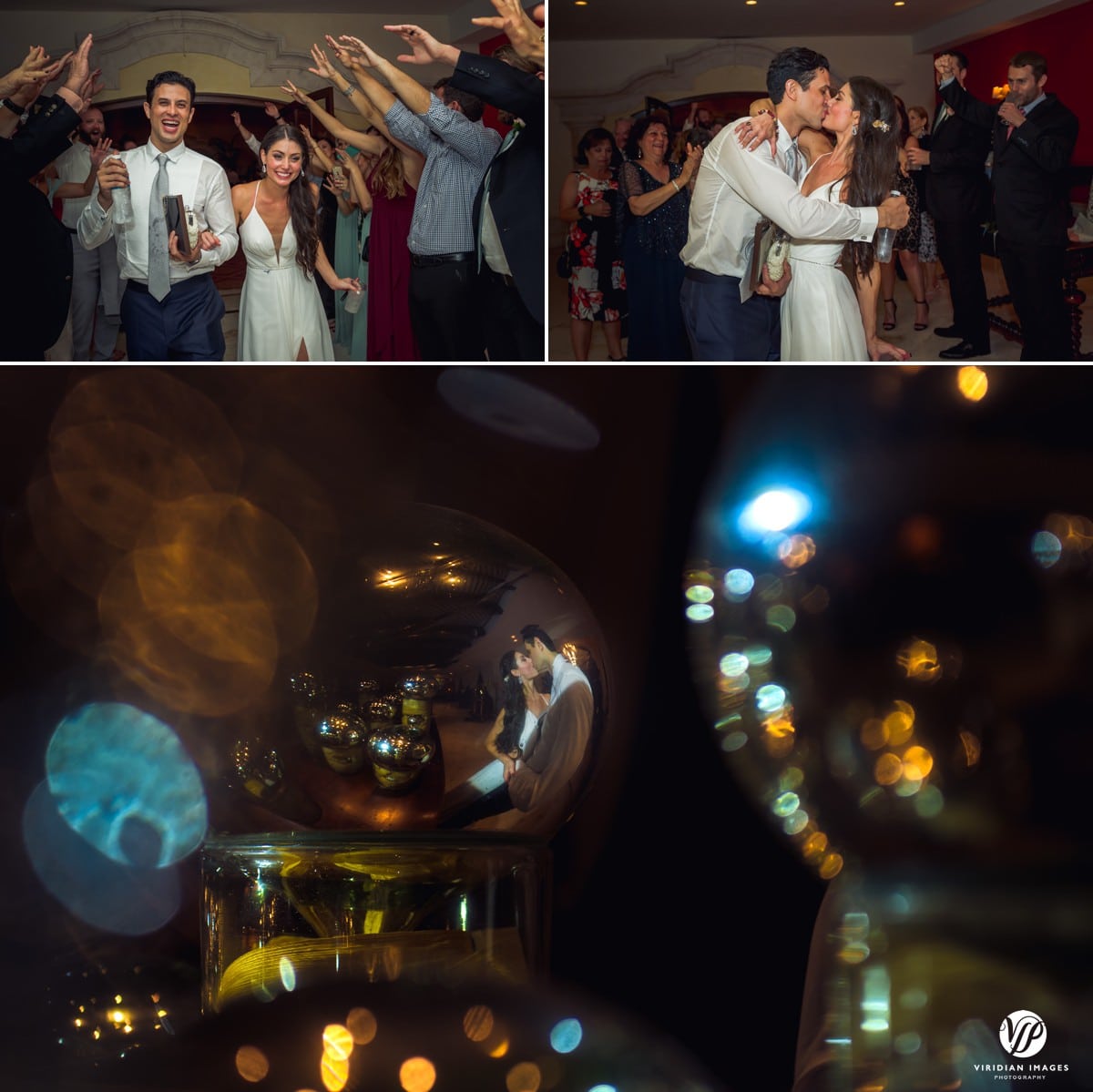 Final thoughts…
In the end we are truly grateful we had the opportunity meet and work with Miguel and Lauren. Not only are they beautiful people on the outside, better yet they a beautiful people on the inside. It was a privilege to watch their story unfold before our eyes and we are excited for their future moving forward.
If you are recently engaged and planning a wedding anywhere in the world, we would like to visually tell your story through images that stand the test of time. Your adventure can begin right here!